Does Chicos Sell Women's Plus Size Clothes?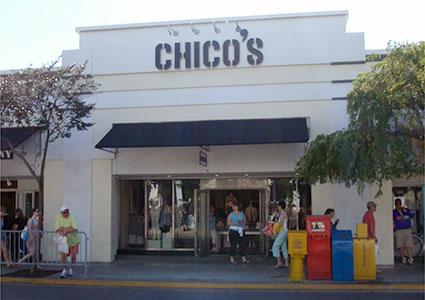 Chico's is known for its sophisticated yet comfortable private-label clothes and accessories. Although Chico's is not exclusively as a plus size store, they do offer items in extended sizes. The key is to understand Chico's sizing charts to translate your size to theirs.
Chico's Sizing
Clothing Sizes
Unlike most retailers who sell plus size clothes sized 0X through 4X (or larger) or on a standard number system, Chico's uses it's own numerical system to label the sizes of clothes. Their unique system uses numbers 000 through 4.5, which translates into traditional clothing sizes 0 through 22.
Keep in mind that not all items at Chico's are available in all sizes; most are available in sizes through 3 (which is equivalent to 16 in traditional sizing). Only select items are available in "extended" sizes. The following chart can help you identify items that come in larger sizes and figure our what Chico's size you might need.
| | |
| --- | --- |
| Conventional Sizes | Chico's Sizes |
| 16 | 3 |
| 18 | 3.5 |
| 20 | 4 |
| 22 | 4.5 |
Sized Accessories
In addition to their clothing sizes, Chico's also sells accessories such as belts and Spanx, which use a different sizing chart. Their belts are available up to Large, which fits Chico's sizes 3 through 4 (equivalent to traditional sizes 16 and 18). A few Spanx styles are available up to E, which can fit women up to 265 pounds depending on height according to the brand's size chart.
Selected Styles
With nearly all items at Chico's being offered to a size 16, and many more being offered to 20 or 22, there are several styles for you to consider.
Travelers Collection
The Travelers Collection is great for traveling. The pieces are wrinkle-resistant and perfect for packing. Some items from this collection include:
Travelers Contemporary Tank comes in extended sizes to size 4 (equivalent to a traditional 20) in both red and gray. It fits smoothly and can be worn as a layering piece or on its own. It has a subtle tailored waist and a scoop neckline. It also provides full coverage, is wrinkle resistant and is machine washable. It retails for $45.
Travelers Classic No Tummy Pant is also available in extended sizes to size 4 in black and gray, with both colors also available in petite and tall lengths. The pants have a relaxed, straight leg, an elastic waist and darts in the front for a smooth silhouette that won't add bulk to your midsection. They retail for $65.
Zenergy Collection
Chico's Zenergy Collection features styles that are effortless and comfortable to wear. Some items to check out include:
Zenergy Olesia Side Stitch Jacket is a versatile item that can be worn numerous ways. It's a hip-length, zippered jacket in a deep, indigo blue. The seams are raised for contrast and style. The jacket comes in extended sizes to size 4 and retails for $109.
Zenergy Blackest Black Velour Pants are a great pair of pants that are comfortable and stylish. They sit just below the waist for a modern fit, and are pull-on with an elastic waistband for comfort. They come in extended sizes to size 4 and retail for $79.
Classic Pieces
Chico's also sells many classic pieces that will remain in style season after season. Some classic items to consider adding to your existing wardrobe include:
Velveteen Five Pocket Pants that sit just below the waist and have a slight stretch to the fabric. They have a slim leg and are flattering to almost any figure. The Darkest Teal and the Ink both come in extended sizes to size 4; petite and tall lengths are also available. They retail for $89.
So Slimming By Chico's Dark Vintage Zip Ankle Jeans have subtle stud detailing and zippers at the bottoms. They sit just below the waist and have a slim leg, along with hidden stitching that creates a slim look. They are available in extended sizes to size 4 and retail for $99.
More Than Just Clothes
Chico's is known for their comfortable and fashionable clothes but they also sell a range of other items. Don't overlook the vast amount of accessories they have to complete your look. All are done in the latest styles and coordinate perfectly with the clothing in the store. You can find scarves, belts, hats bags and more at Chico's. Most items can be found at the boutiques as well online.