Queen Latifah Clothing Line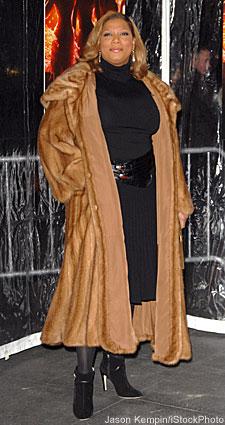 The Queen Latifah clothing collection caters to those with fuller figures and features quality plus size lingerie and clothing designed to flatter any woman's figure. Curvaceous women can appreciate the stylish pieces found in the collections by this well-known celebrity.
Basics of the Queen Latifah Clothing Lines
Queen Latifah believes that every woman should feel good about herself no matter what her size or shape. In keeping with this belief, she has created a line of clothing that reflects her own personal style and represents her confident attitude. Queen Latifah has also partnered with a lingerie line that is designed for fuller figure women.
The Queen Collection
Available exclusively on HSN, The Queen Collection consists of clothing, accessories and handbags designed for women up to size 3X. The collection features high quality clothes in designs that flatter a woman's curves.
The Queen Collection includes clothing options such as:
Tunics: Blousy, pretty cuts and details like bold prints or sequins allow you to add some extra splash to your look.
Hoodies: Comfortable, easy-to-coordinate, and hip, the hoodies can be paired with casual pants and denim for a no-fuss look.
Sweaters: Choose a style and fit that works for you; the cowl, v-neck, and poncho styles are flattering and pretty.
Leggings: Essential to the modern woman's wardrobe, Queen Latifah leggings feature details for extra flair, such as small zippers.
Coats: Casual and dressy styles are available, featuring great fabrics such as washable suede, cotton canvas, and metallic leather.
Skirts: Skirts in the collection feature details like ruching and stretchy fabrics.
Tops: Both everyday essentials like long-sleeved tees and work-appropriate blouses can be purchased.
Jeans: Dark denim in a slimming cut goes from work to play.
Some great items from the collection to check out are:
You can also find stylish accessories in the collection such as the Faux Suede Wrap Belt. This sash-style belt can be worn with anything from tunics to tees. It comes in your choice of Black, Purple or Taupe and in both Missy and Women's sizes.
Another must-have is The Queen Collection Charmeuse Scarf with Ombre Fringe Trim. This scarf will add the perfect touch to any outfit and is very lightweight. You can choose between Midnight or Slate for this stylish scarf.
Curvation
Queen Latifah partnered with the Curvation line of intimate apparel, which is part of the Vanity Fair lingerie family, in 2002. She has been involved in both the marketing and design of Curvation. This line is appealing for many reasons. For starters, it provides full figured women quality lingerie at reasonable prices. It's also designed to make you feel good about yourself while wearing it. Most of the undergarments come in beige/nude, black or white and in sizes up to 2x for bottoms and shapewear and 44DDD for bras.
The line can be found online at sites such as:
To find a retail location near you, enter your state or zip code into the store finder located on the Curvation website.
Making a Stylish Difference
Queen Latifah is an award-winning plus size celebrity who is proud of who she is and what she does. She knows she is full-figured and has even worked her size into many of her popular movie and television parts. One of her goals is to help women feel sensual, vibrant and confident in their own skin. By showing off her own curves, she is letting plus size ladies know they can be beautiful even if they're not a size six. Women can feel confident wearing her clothing collection since it is designed for those who have curves and are not afraid to show them off.