Specialty Bra Shops for Full Figures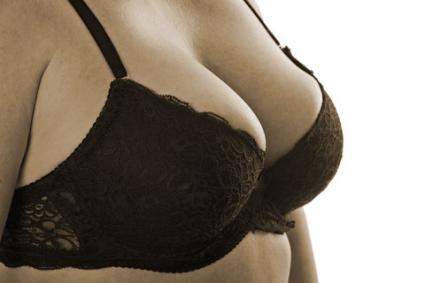 A bra is an essential part of every woman's wardrobe. It is the foundation of every outfit since the right bra gives the body a smooth silhouette and offers comfortable support for the breasts. It isn't enough to simply buy a bra in a large size from a retailer that doesn't understand the specific needs of full figured women. It's best to shop from stores that specialize in plus-sized bras because they will have the knowledge and experience necessary to help you make the best selection.
Hips and Curves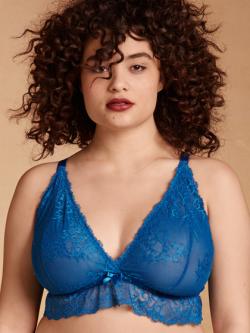 Hips and Curves has supplied lingerie for fuller figures online since 2000. They provide a wide selection of styles from sweet to sultry, and they carry items that are specifically designed for women with fuller figures instead of lingerie designed for smaller women and then sized up. There are over 60 styles of bras available, including t-shirt bras, bralettes, and sexy strappy selections. Prices range from about $25 to $50 and color options run the full spectrum from nude to magenta and turquoise. They carry sizes from 36C to 50D.
One customer comments that, "This is the best place that I have found for a plus size person like me to get sexy lingerie that looks good. And the bras they have are just wonderful. I'm a 44C and that's a hard size to find in something that do[es] not look like your great grandmother would w[ear]."
Orders over $95 ship free within the U.S., and you can return unworn items within 60 days for a full refund, or after 60 days for an 80% refund.
HerRoom
HerRoom is an online lingerie retailer dedicated to providing the widest range of products to meet the needs of all women. The store offers bras up to band size 58 and up to cup size N. There are almost 2500 different bras available at HerRoom, from longline styles to wireless bras to minimizers in a wide range of colors and prints. Prices range from affordable choices around $15 to some styles that are tagged at over $250, and all orders over $70 ship free. Additionally, the site has a rewards system that allows customers to accumulate points that can be exchanged for gift certificates.
In addition to carrying a wide selection of sizes and styles, HerRoom makes sure that you get exactly what you want. Each product picture offers a "See it Under" feature that gives you an idea of how the garment will look under six different necklines. The site also has a "Know Your Breasts" option that helps you pick the best bra for your size and breast shape.
Despite all of these features, if your order doesn't work for you, you can return unworn items for a full refund within 30 days. Beyond that, you might get help from a customer service representative in picking a better item. "I returned an item and left a not-so-great review of it. A website rep left a comment after mine telling me that based on my needs/requirements that this was the wrong garment and I should try item #123. Pretty impressive response," comments one pleased customer. So go ahead, give HerRoom a try.
Torrid
A newer name in the plus size fashion market, Torrid is quickly becoming a popular choice for fuller figured customers. One of the benefits of shopping at Torrid is that you can shop online or find a store near you where you can try items on in person. Torrid offers eight different styles of bras that are perfect for everyday wear, including push up racerbacks and demi bras, that range from sizes 38B to 48DDD. The bras come in basic black and nude as well as bolder colors like coral and teal, and they are priced around $45-60.
Plus size fashion blog Curves and Chaos gives Torrid bras a solid review. "After a few hours of wearing the bra, I was pleasantly surprised. This was a very comfortable bra. And I have been wearing them ever since. No annoying digging into my shoulders, no wires poking me in the side, no extreme padding, and there's full coverage with support."
You can return or exchange unworn items in person at a Torrid location, or by mail using their online return form, within 60 days of purchase.
Just My Size
Carrying up to size 58J, Just My Size offers over 100 affordable bra options that cost around $10 to $60. You can search by options like front closure, minimizers, and even bras with extra comfortable straps. Most choices are available in neutral colors, black, and pastel shades. They offer a 100% satisfaction guarantee on all of its items and free shipping on orders over $60. If your bra doesn't fit just right, there is a prepaid return label included in all orders to make your return extra easy.
This site also carries its own brand, which is available at department stores and online at sites like Amazon. Reviews are very positive for the brand. For example, "I tried many brands through the years and finally found 'Just My Size.' (T)his style fits perfectly and there are NO under wires! It also doesn't look like an 'old-lady' bra. It is very comfortable to wear and lasts for years (when washed properly)."
Bare Necessities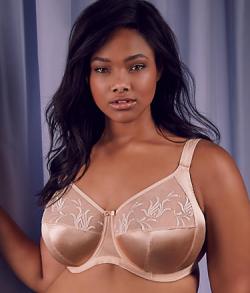 Bare Necessities which carries up to cup size N and band size 58. The bras come in many styles including back smoothing and seamless, in many colors and patterns. Some are smooth satin while others are adorned with lace and bows so you're sure to find something that fits your style.
At Bare Necessities, orders over $70 get free shipping. To make sure you get exactly what you need, bra fit experts are available to call during regular business hours. If your purchase isn't quite right, you can return unworn items within 60 days for a refund, or after 60 days for store credit.
Customer reviews note the selection and fit, with one noting, "I have been impressed with this site because of the selection, the quality of the products, the communication I received when I was having an issue, and because the delivery is prompt and not overly expensive."
Optifit
If none of the previous shops have what you're looking for, or if you want to be sure that the bra you order fits, try Optifit's custom made bras. These bras are specifically designed to be therapeutic for women with large cup sizes by providing postural support. The bras lift the breasts without wires, and the company offers sport, maternity, and surgery styles as well as everyday basics. Optifit bras come in black, white, champagne, and steel gray with a solid style and a lace style. Prices range from about $75 to $100.
Blogger 30 Something Mel raves, "Being larger breasted it can be hard to find [a bra] where you don't have lumps and bumps. The biggest change I noticed about Optifit was I had no lumps and bumps! ...I must add that the bras are extremely well made. From the hemming, to the straps details - everything is finished off beautifully and professionally as you would expect from such an amazing bra."
Place an order using your standard bra size, then the company will send you a measurement kit. Optifit has a video to help you obtain your proper measurements, and once you send your measurements back to the company, the bra is sewn within about two weeks.
The company is based in the U.K. so shipping may take longer than it would with domestic companies, but International orders are accepted and you can opt to show prices on the site in U.S. dollars. Since these bras are custom made, returns are only accepted for defective items.
Sizing for Bras
Even with all the information available for sizing, it's surprising that so many women aren't wearing a bra that fits them properly. It pays to measure yourself well; if you need help to learn how to size yourself, consult a bra sizing guide. Ask a friend for help if it's difficult for you to take measurements alone. By focusing on fit first, you can feel confident - and comfortable - in the bra you choose.
Save