Burlesque Wear in Size 22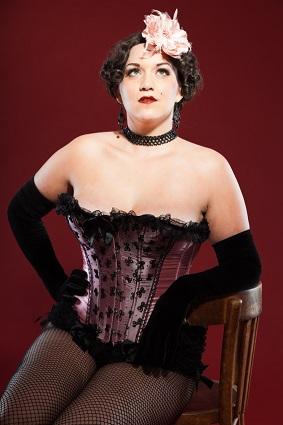 Since most women who are serious about their stripping make their own clothes, it stands to reason that if you want burlesque wear in a size 22, you should probably expect to make it yourself. However, if you are only just get starting in the biz and want a few pieces for a basic act before you get serious and brand yourself, you can find some good things in the world of plus size sexy wear.
Burlesque Wear in Size 22 Options
Before you start shopping, you must determine what sort of burlesque performer you are. Many performers opt for a look from the classic age of burlesque - the 1940s and 1950s. Costumes from the 1950s work very well for a plus size woman, as they are meant to show off real curves. If this is your area of interest, you should start your browsing at Stop Staring, which makes retro clothes for modern women and has an excellent selection of plus size wear for the rockabilly and burlesque set. Most of their dresses are available up to size 18, but some are made up to size 26. Unfortunately, the web site tends to just list what sizes are currently in stock. However, if you find something you like, you should contact them and explain your size needs. They are an accommodating small business and can usually make a dress for you if they don't have it in stock, although you should be prepared to pay a small surcharge.
Some of their burlesque dresses include:
Super Fox. A black dress straight out of film noir made of stretchy bengaline, so it sits perfectly on curves. It has a detachable faux fur shrug, spaghetti straps and a flattering semi-heart neckline with five dome buttons at center bust. The pencil skirt gathers at the center front and back - which also features a sexy bow.
Sexy Safari. A leopard-print dress in stretch satine, which does wonders for both firming and hiding bulges and is great for wearing over sexy girdles and corsets. The bust is padded to give some extra lift. Zips in the back, so great for a slow tease.
Madmen Dress. Get your early 1960s on in this chic dress of stretchy spandex. It has a wrap twist in the bust to enhance curves and a fitted bodice.
Burlesque Lingerie
Corsets and other such burlesque wear in size 22 are a bit harder to find, but again, the serious performers of all sizes have them customized to suit their act. One place that has burlesque corsets in larger sizes is Baby Girl Boutique. They have a red and black bow print mesh corset with ruffles and boning.
Feeling USA also has a red and black burlesque corset. It is brocade, with a lace-up back, ruffles at the top and bottom and even comes with a matching thong.
Baci Farfalle makes a range of corsets suitable for burlesque wear in size 22 and even higher:
The steel-boned black corset with hot pink ruffles is heavy duty with cotton lining for comfort while you shimmy. It has removable garter straps, satin ribbon shoulder straps and comes with a G-string.
For extra sparkle, try the black lace corset over white satin - it will look silver under the light. It fastens up the front with metal clasps and laces up the back. It's designed to give the wearer a perfect hourglass figure.
The purple burlesque corset with black lace is sexy and elegant. It has a silk bow on each hip and the bust, great for doing bumps.
Accessories, Information and Forums
Whether you are just starting out or have been doing burlesque for a while, you can always use more information on costumes, especially places that do custom work. Bookmark Burlesque Costumes to get a list of everything you need and more so that your act can become ever more fabulous!