Women looking for Disney costumes in plus sizes have a great range of choices, including fun classic characters, the always-popular Disney princesses, and even notorious villains. Whether it's for cosplay, Halloween, or another costume event, there are many choices when it comes to Disney costumes.
DIY Disney Costumes for Women
You might need a costume quickly, want to indulge in your crafty side, or ensure the costume fits you perfectly. These are all great reasons to come up with a DIY Disney costume.
Queen of Hearts
Disney's Queen of Hearts is a fun costume if you want to dress up like this wicked character. You can create this outfit with a few simple clothing and craft items.
Supplies
A black corset-style top or black tank top
A black skirt
A tiara
Red lipstick
Red felt
Fabric glue or hot glue
Instructions
Cut out red hearts from the felt. You can draw these freehand or use a heart template.
Cut wide strips of felt to add to the skirt. (You can also opt for a plain black or plain red skirt instead of adding felt for the stripes.)
Attach the felt strips lengthwise to the skirt, spacing them evenly around as you go.
Affix the hearts to the top in a row down the center of the corset or tank top using fabric or hot glue.
Put on your top and skirt, then add a tiara and red lipstick for the finishing touches.
Ariel Costume
You can pull off a costume inspired by everyone's favorite mermaid with a simple DIY skirt and a few simple craft items. Once you've made your skirt and headpiece, finish by adding a purple bikini top, red lipstick, red wig, and green or nude flats.
Mermaid Skirt Materials
Green or turquoise stretchy or spandex fabric
Tulle in color that coordinates with the skirt
Needle and thread or sewing machine
Fray stopping liquid (such as Fray Check)
Hot glue
Safety pin
Skirt Instructions
Find out how much fabric you'll need by measuring around your hips for the width, and measuring from your waist to the length you want the skirt to (i.e. calves). Add an extra inch to the length because you'll be folding down the waist. For the front panel, measure across the front of your waist, and measure from chest down to your waist. Add that to the skirt measurements to get the amount of fabric you'll need.
Once you have your fabric, cut out a large rectangle according to your skirt measurements.
Hand sew or use a sewing machine to stitch up the long sides. Now you have a simple tube skirt. If the waist is too loose, add a few stitches on either side of the waistline to correct the fit.
Since the costume uses stretchy fabric, you don't have to worry about a separate waist band. Turn about an inch of the fabric inward so it creates a nice smooth line.
Measure and cut a triangle out of the fabric for the front of the costume. Use fray stopper on the edges to skip sewing a finished edge. Sew or use fabric glue to attach the panel to the front of the skirt. Once dry, you can attach it to your bikini top with a safety pin. (The panel is optional, but can be a great choice for cooler weather or for women who want the fun look of an Ariel costume without having to show their stomachs. )
Cut a length of tulle that is the length of your hips and several inches wide. Roll the tulle up and attach to the folded-in waist band with a few small tack stitches in the front, on each side, and the back.
Using tulle is an easy way to allude to Ariel's tail that still allows you to walk with ease. Cut the tulle so it goes from the bottom of the skirt to the tops of your feet. Use hot glue to affix the tulle to the inside of the skirt. Bunch up the tulle slightly as you apply the glue to give it some body.
Flower Hairpiece Supplies
Leftover tulle from the skirt
A purple silk flower
A plain push-in hair comb
Flower Hairpiece Instructions
Cut a layer of tulle in a circle and affix it the top of the comb with hot glue.
Attach the silk flower in the center of the tulle and apply hot glue to secure.
Elsa Costume
Bring out your inner ice queen with a simple DIY Elsa costume from Disney's Frozen. This is great for the plus size woman who wants a costume needed for cooler weather or who doesn't want a short or overly revealing costume.
Supplies
A white or platinum blond wig
A sheer, long sleeved white shirt
A light blue strapless top
A light blue skirt
3-4 yards sheer, light blue fabric
Safety pins
Fray stopping liquid
Silver glitter fabric spray paint
Glittery shoes
Instructions
Add sparkle to your costume by applying the silver glitter spray paint to the top, and if desired the skirt, for your costume and allow to dry (make sure to do this at least the day before your event as the fabric paint needs plenty of time to dry).
Cut the sheer fabric long enough for a cape, (measure from the shoulders to mimic Elsa's) but make sure it is not so long that it causes you to trip. Apply anti-fraying liquid to the edges.
Affix the fabric for the cape to the shoulders of the dress with safety pins.
You can also have fun playing with frosted and glittery shades of eye shadow and blush to finish off this elegant costume.
Simple Snow White Costume
Snow White is a beautiful and beloved character. Dress up as this sweet princess with items you may already have in your closet and a simple DIY vest. This is a great choice for a plus size woman who wants to have minimal expense in creating a costume and customize the fit of the look.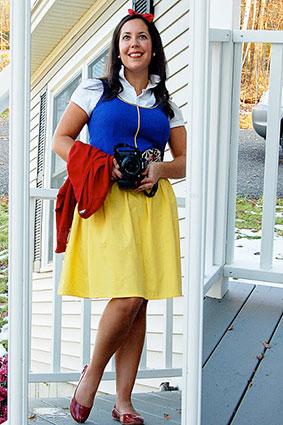 Supplies
A yellow skirt
A white blouse or shirt with a collar
A red hairband with a bow or red ribbon long enough to tie in the hair
A black wig or temporary dark hair color
Red shoes
Red lipstick
A blue t-shirt that's big enough to fit over your blouse
Gold rick-rack, piping, or ribbon
Fabric glue
Vest and Costume Instructions
Cut off the sleeves of the blue shirt, making a slight inward cut at the shoulder.
Cut out the neckline in a wide scoop neck fashion.
Cut off the bottom hem to avoid extra bulk at the waistline, but make sure it is still long enough to tuck into your skirt.
Use fabric glue to apply the rick-rack, piping, or ribbon down the center of the vest and along the neckline.
Once the glue is dry, you can put all the elements of your costume together. Make sure to tuck in the vest for the costume to look more like a dress, and stand the collar of your blouse up to look like the collar on Snow White's dress.
Purchased Disney Costume Ideas
A wide range of sizes and the popularity of Disney characters mean that a Disney costume is a good choice for the plus size woman who wants plenty of choices.
Classic Cinderella Costume
Cinderella makes a sweet and feminine choice for a costume. This Classic Cinderella Costume from Candy Apple Costumes includes an ankle-length light blue dress with a peplum-style tulle accent and delicate silver trim, a pair of matching glovettes, and a black choker. It is available in sizes 1X (sizes 14-16), 2X (sizes 18-20), and 3X (sizes 20-22) and it retails for approximately $45. The costume's style, with the bodice panel narrowing at the waist, helps create the look of an hourglass figure.
Finish the costume with a pair of glittery shoes, such as the Silver Glitter Ballet Flats for about $30 or the Silver Glitter Peep-Toe Pumps for about $55. Shipping starts at about $7, but is free for orders of $75 more. The store allows returns with 14 days of receiving your costume.
Alice in Wonderland
Get Alice's adorable look with an Alice in Wonderland Costume from HalloweenCostumes.com. This plus size costume is a good choice for women who don't want a sexy or very form-fitting style. While the costume creates a flattering outline with its high-waisted apron, the puff sleeves and simple skirt aren't constricting or revealing. Available in plus sizes 1x through 5x, this costume includes the dress, ruffled apron, and black hair ribbon for about $35.
The website also sells separately white plus size tights for around $6 and black Modern Mary Jane Shoes for approximately $30 to help you complete your costume. Shipping costs differ and are based on weight and speed of delivery. You have up to 60 days to make any returns.
Belle Costume
A sophisticated look, this Belle Costume from Halloween Mart has a lovely yellow gown with small floral details, sheer sleeves, and a sheer tulle overlay on the skirt. The vertical white lace details on the bodice and a-line style skirt create a flattering overall look. The costume comes in sizes 2XL, which fits sizes 18-20, and 3XL, which accommodates sizes 20-22. It retails for approximately $45. It includes the dress and matching glovettes. Pair it with your favorite pair of nude heels for a classy finish.
Shipping rates vary depending on the overall order, and returns must be made within 10 days of receiving your order or items will be subject to a 25 percent restocking fee.
Cruella Deville
If you're craving a character that's a little more on the wicked side, this Cruella Deville Costume from Yandy (or Amazon) can transform you into an irresistible and sexy Cruella Deville. Available in plus sizes 1X/2X and 3X/4X, it comes with a ruched black mini dress, red gloves, black choker, a black-and white spotted cape and wrist piece, and a faux cigarette holder. It sells for just over $40. Orders over $70 ship free, and returns must be pre-authorized by the company.
Purchase fishnet stockings for about $5 on the website. Add any pair of black pumps. The wig does not come with the costume, but you can find black and white wigs, such as this De Vil Wig by Magik Costumes available on Amazon, at many major retailers and costume stores.
Evil Queen
The evil queen is a fun choice for a costume when you want a costume with a darker personality. This Snow White Evil Queen Costume from Mr. Costumes comes with a long black and purple dress with a detailed bodice and wide, stylish lace bell sleeves. It also includes a black and gold, sharply pointed crown. It retails for approximately $60 and comes in sizes 1X/2X for sizes 16-20, and 3X/4X that fits sizes 22-26. Add any pair of black heels for a complete costume.
Shipping rates depend on weight, location, and delivery method. Returns must be made within 30 days after receiving the costume.
Mrs. Incredible
A mom who is more extraordinary that ordinary, a Mrs. Incredible Costume is a cute choice for a Disney superhero. Available from Party City, this costume includes the bright, stretchy jumpsuit with attached faux boots, black gloves, and a black mask. This costume comes in a one plus size that fits sizes 18-20 or up to 195 pounds for approximately $40. Shipping rates start at about $8 and go up from there, depending on method chosen.
Minnie Mouse
This iconic character is played up with a cute Minnie Mouse Costume that features a fitted dress with a black top and a red skirt covered with white polka dots with attached suspenders. It includes a matching polka-dotted bow-tie choker, white gloves, and a mouse ears headband. Available in plus sizes 1X/2X and 3X/4X from Mr. Costumes, it retails for just over $40. You can buy the black knee highs separately available on the website for about $2. Shipping rates vary by weight, method of delivery, and delivery address.
If you don't have a pair of yellow pumps or flats, you can find them at most department stores, for example, the BCB Generation Yellow Pumps available at Macy's.
Fantastic Character Costume Options
You're never too old to dress up as your favorite Disney character. Whether you love the sweet-spirited princesses or the bold female villains, there are plenty of options to choose from. The variety of options in plus sizes means you can dress up in any Disney character that makes you look and feel great.