Plus Size Leather Corset Dress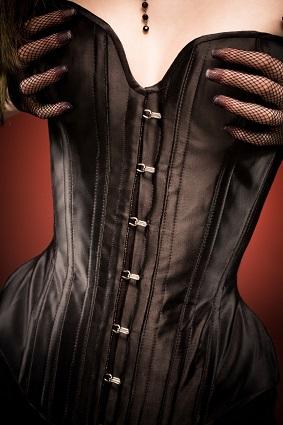 A leather corset dress is the perfect outfit for turning heads at a party whether it's full of people or just the two of you. For full-figured women who can appreciate the sensual qualities of this material, finding a dress made of leather is a treat.
Where to Find Leather Corset Dresses
A corset-style dress can flatter a fuller figure since it will cinch in your waistline while showing off your curves. You can often find leather lingerie and clothing in plus sizes in specialty leather shops, lingerie boutiques and online. Try one of these retailers for great options in leather corset dresses in plus sizes:
Spicy Lingerie
At Spicy Lingerie, you can find a selection of sexy dresses done in plus sizes. This site offers free shipping on all orders and will include a free gift. This is just one example of the options available here:
Tease Me and Whip Me Sexy Leather Dress: The name says it all! Not for the timid, this sexy black leather mini dress is priced around $140 and comes in sizes 1X, 2X and 3X. It features a lace-up, corset-style front that will pull in your waistline, adjustable straps for a custom fit and a supportive underwire bra. This dress has a full leather back as well.
Leather Obsession
Leather Obsession features a range of sleek leather lingerie and clothing for plus size women. This site carries soft, supple leather fashions such as the following dress:
Lace Up Leather Dress: This black leather dress is done in a soft corset style without boning. It offers the style of a corset with a lace-up front but will not cinch in your waist. Priced around $190, this style currently comes in sizes 1X and 3X. It features an adjustable halter-style neckline for added support and an easy to get in and out of back zipper opening.
Just Plus Size Corsets
At Just Plus Size Corsets, you can find a variety of fashions tailored to a fuller figure. This site offers one of the largest size selections as well as fashions that can be worn in private or at clubs. Consider the following:
Leather Corset Top and Skirt Set: For a look of a dress, consider this corset top and skirt set made by Daisy Corsets. Done in black leather, this set is priced around $63. It is available in a wide range of sizes up to a 6X. The corset top of this set is done in an over the bust, strapless style with a lace-up back. The skirt has lace-up sides. Also included is a matching thong.
Shaper Corsets
Shaper Corsets features a variety of corset dresses in plus sizes. The corsets from this retailer are done in the highest quality materials and in classic and updated designs. Women of all sizes can find something that will flatter their figures and make them feel sexy. Try the following:
Fetish Erotic Black Leather Corset Dress: This long black dress is priced around $330 and comes in plus sizes that will fit a waist of up to 48 inches. Custom ordering is also an option if you do not find your size. It is done in genuine leather and is lined with 100 percent cotton for comfort. This dress will draw in your waistline while giving lift to your bust. Other details include front boning, steel supported grommets for lacing, along with lacing in the back for a flattering fit.
Styling Tips and Suggestions
Whether it's your first time wearing a leather garment or leather is one of your wardrobe staples, there are several tips to keep in mind to have you looking your best.
Most corset dresses run smaller in size and are designed to fit tightly and hug your curves. For the most comfortable fit, either order your exact size or the next size up.
If you are planning on wearing your corset dress out to a club and are feeling a little shy, consider wearing a leather jacket or a sheer blouse over your dress for additional coverage.
Shoes can make your entire outfit. Depending on the look you are going for, you have several choices. You can wear a stiletto heel for a super sexy look or try a high leather boot for a gothic look.
Look and Feel Confident
A leather corset dress can make you feel sexy and attractive. Be sure to find one that will flatter your figure and feel comfortable while doing so. You can enjoy leather clothing no matter what your size as long as you are wearing a piece that makes you look and feel confident.