Where to Shop for Plus Size Fall Dresses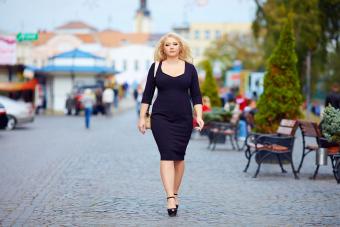 Fall is a great time to wear a stylish dress, and there are lots of beautiful options out there for plus size women. From casual options that look great with boots and sweaters to professional and sophisticated work dresses, you can find what you need at the best retail shops.
Nordstrom
Nordstrom is one of the very best places to find the top brand names in plus size dresses. The store has the latest styles for fall at a wide range of price points, varying from splurge-worthy cocktail dresses to trendy casual numbers. When it comes to variety and being on-trend, you can't beat this department store.
You'll find wear-to-work styles like the Evans 'Polka Dot' Wrap Jersey Dress (shown right). This knit dress is comfortable and features a flowing silhouette for easy, unrestricted movement. It also has 3/4 length sleeves to keep you warm in chilly fall weather. The black and white polka dot print is stylish and fun, especially with a pair of ankle booties and some great accessories. It comes in sizes 18W-20W and retails for about $60.
For another work-ready or date night ensemble, try the Graphic Print Sheath Dress, which comes in a black and white geometric print by Ralph Lauren. The black side panels help add contour, and the high neckline offers plenty of coverage. The dress can be paired with red knee-high boots for an amazing look. The dress comes in sizes 14W up to 24W and retails for around $145.
If you need something for cocktails or a special fall date, the Short Sleeve Velvet Swing Dress is a great choice. While the style is short sleeve, the velvet fabric makes it perfect for cooler fall evenings. The empire waist and flared hemline makes sure the dress fits comfortably and flirty. Pair it with either boots or pumps, and add a blazer if you need some added warmth. This dress is available in pink in sizes up to 14W-24W and it retails for $80.
Nordstrom is on the list of The Curvy Fashionista's top places to shop for plus size clothing. The review specifically praises the selection, stylish looks, and affordable shipping.
ASOS Curve
If you're looking for affordable, trendy plus size dresses for the autumn season, you can't miss ASOS Curve. This is absolutely the place to get a really great deal for a look that is of-the-moment. Since most items are under $100, you can stay in style without blowing your budget. You'll find looks for every occasion:
To give your work wardrobe a style update for fall, try looks like the ASOS Curve Wiggle Dress With Cold Shoulder. This textured dress has a tapered waist, slit open elbow length sleeves, and a high neck. It comes in black and can be worn under a blazer or knit sweater with a wide belt and heels, making it perfectly office-appropriate. If heading out after work, simply add a pair of earrings and remove the sweater. It comes in sizes 12 up to 24 and retails for $65.
The ASOS Curve T-Shirt Dress with Lace Inserts is the perfect choice for a casual weekend coffee date or crisp autumn stroll. It features a lace insert in the front of the neckline and hemline, stops at the knee and has a relaxed fit and shape. The dark red fabric pairs well with booties and a denim jacket. The dress is also available in black and comes in sizes 14 up to 24 and retails for about $45.
For a night out, you can't beat the va-va-voom of the Deep Bardot Midi Pencil Dress which has a close-cut body conscious fit, a deep neckline, and stops mid-knee. The stretch jersey dress comes in sizes 14 to 22 and retails for about $35.
Madame Noire lists ASOS Curve as one of the top ten places to shop for trendy plus size clothes, citing its amazing selection, decidedly non-frumpy styles, and spectacular fit.
IGIGI
IGIGI is all about designer plus size clothing. In fact, that's all they sell. Since these dresses are specifically designed for the full-figured woman, they are full of details that flatter your body shape. From fabrics that skim instead of cling to details that enhance your best features, this is the place to find a dress that will make you look and feel great this fall. Whether you're looking for something casual or formal, you can find it here:
For the office, try the Francesca Plus Size Dress in Ocean. The dress calls attention to all the right places while still being appropriate for professional settings. The faux wrap style shows off and enhances an hourglass shape, and the three-quarter sleeves, polyester fabric, and color range (which also includes black and magenta) are perfect for autumn. It comes in sizes 14 up to 36 and retails for $150.
The perfect romantic look for a fall weekend day is the Bellissma Plus Size Dress. The olive color makes the dress a great autumnal neutral to own, and the V-neckline and faux wrap bodice enhance the bust. A pretty floral print decorates the full skirt that hits just below the knee. It comes in sizes 14 up to 32 and retails for about $150.
For that cocktail party or autumn date, try the Ambrosia Plus Size Dress in Deep Rouge. This beautiful knee-length dress has a figure-flaunting faux wrap design, ruching throughout the skirt, and a deep v-neck that goes perfectly with a statement necklace. Three-quarter sleeves keep you warm on chilly fall evenings. It comes in sizes 14 up to 36 and retails for $160.
IGIGI is one of the top names on Oprah's list of best shops for larger sizes. The review specifically mentions that the dresses are fully lined, so they are designed to naturally smooth any figure flaws.
Simply Be
With a huge selection of super-stylish clothes for women in sizes 10 through 28, Simply Be is another must-try shop. Simply Be offers the hottest styles for fall, with a fit designed to enhance your curves and make you feel confident and beautiful. You'll find dresses for every occasion:
For work this fall, try the Tea Dress which has colorful flowers on a black background. This A-line dress skims over your curves, buttons down the center and hits just above the knee. The elastic waist in the back gathers to enhance your shape, and the dress pairs easily with a cardigan to help you keep warm. This dress comes in sizes 12 up to 28 and retails for about $40.
Joe Brown's Fabulously Flocked Dress looks great with black leggings and booties for cozy fall outings. It features a black fabric with a subtle jacquard pattern, a fitted bodice, and a curve fitting bottom. This cute sleeveless dress hits below the knee, and is also available in a fall-friendly navy. It comes in sizes 12 up to 28 and retails for just over $80.
If you need a great look for a fall party, try the Lace Detail Skater Dress. This romantic dress has long sleeves, a round neckline, and comes in a sizzling, fiery red with a bodice made of lace. The A-line dress hits just below the knee. It comes in sizes 12 up to 28 and retails for a little over $80.
According to The Curvy Fashionista, there's basically nothing to dislike about Simply Be and their clothing offerings. The review praises the great quality, on-trend yet classic styling, and affordable prices.
Dress Barn
Whether a woman is searching for a wardrobe of dresses for her daily 9-to-5 or updating her casual and special occasion selections, Dress Barn is a one-stop destination. For fall, Dress Barn has a range of dresses to match your budget and often collaborates with fashion designers, allowing women to find a modern stylish look.
Making a posh statement at the office is ideal for when a woman wants to dress the part for a power role. The Belted Polka-Dot Peplum Dress has a bit of a vintage flair. Overall, the silhouette is flattering to curves, with a red belt that cinches the waist and has a pencil-shaped, narrow skirt that stops knee-length. Simply add a blazer if there is a chill in the air and a classic pump. The dress is available is sizes 14-18 and costs around $25.
If updating your closet with a casual dress is more along what you need for the season, the Denim Sheath Dress is a great choice. Whatever your style mood, there is a look that can be achieved with this dress. Whether you want to layer a turtleneck underneath or a moto jacket on top, the possibilities are endless. The jean sheath stops below the knee and versatile enough to wear on a casual day at the office, too. Ranging in sizes 14-22 and costs around $50.
When your social calendar call for a special occasion dress, the Cold-Shoulder Embellished-Sleeve Dress has long chiffon sleeves that elegantly drape the arms. Made of a polyester and spandex blend, the body of the dress has a little stretch and stops at the knee. Adding a choker or long necklace is all that is needed, with a clutch and heels for a night out. Available in sizes 1X and 2X, the dress costs about $60.
According to blogger Crystal Coons of Sometimes Glam, both the price point and dress designs offered at Dress Barn are spot on when it comes to finding style that is budget-friendly.
Feel Confident and Stylish
There are so many fabulous styles out there for full-figured women who want to show off their fall fashion sense. No matter where you choose to shop for plus size fall dresses, choose something that makes you feel confident and stylish.