Plus Size Jeans for Teens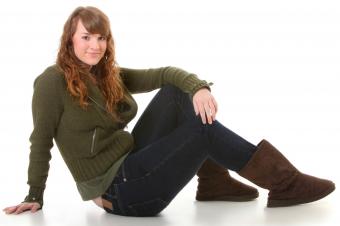 For the curvy junior, plus size jeans for teens can be her go-to wardrobe item on many occasions.
Jeans are ubiquitous in today's society. They're available in a wide range of prices, from an inexpensive pair at your local discount store to high-end brands that rely on a designer name to justify the expense. Some people simply slip into their jeans, add a complementary top and call it a day, while for others, choosing and wearing jeans is almost a science-everything has to be perfect before they head out the door. Where can the full-figured teen find perfect jeans for her?
Finding Plus Size Jeans for Teens
While teens don't necessarily have to shop in the Juniors department, the styles offered in this section tend to be younger and more trendy than the clothing in the Women's department. Most young adults want to dress like young adults, not like their moms. Some places to check out for the latest fashions that teens might like include:
Torrid: This popular plus size retailer carries a great selection of jeans which most teens will love. Who says curvy girls can't wear skinny pants? Not Torrid. You'll find skinny jeans as well as boot cut, stirrup, trouser and flare styles here. From light wash to rich, dark colors, you can buy jeans for school, shopping or just hanging out.
Apple Bottoms: This company came on the scene to accommodate women who had one major problem with their jeans: because they were well-rounded on the bottom, but had small waists, the waistband of their pants would always be too large and leave an unflattering gap. Apple Bottoms aren't just made for full-figured customers; they fit women in all sizes. However, they offer a plus size category full of jeans for the curvy consumer whose waist is small in relation to her hips. Now you can buy pants that don't swim around your waistline and still fit your bottom perfectly.
Shopping in person always has one benefit over shopping online: you can try your jeans on before you buy. Trying on clothing is just the smart thing to do because if it doesn't fit or you're not crazy about it, leaving it at the store is much less of a hassle than having to return it (also, some stores have strict return policies, especially on sale or clearance items, which everyone isn't aware of).
Jeans should fit you, but not be so tight that you have trouble zipping them up or breathing in them. They also shouldn't be so loose that you're swimming in them-this can be an issue for teens who aren't as body-confident and constantly believe they're bigger than they are.
Accessorize
When wearing plus size jeans for teens, don't forget the right top. The great thing about jeans is that they can be dressed up or down. You can either pair them with heels or with flats and they'll look fabulous either way. You should also carry a cute handbag or tote and add complementary jewelry--just don't overdo it.
At school, the mall, the movies or anywhere casual chic is acceptable, you can wear your favorite jeans and really stand out in a crowd.