Looking Great in Leather
Plus size leather coats and jackets are the perfect additions to any woman's wardrobe. Besides being fashionable, leather jackets can add a bit of flair to an otherwise drab ensemble. For plus size women, leather coats and jackets are the perfect complement to a curvy figure. They come in a variety of styles, lengths and colors, so they are appropriate to wear for almost any occasion.
Your Dark Side
A form-fitting black leather coat or jacket is perfect for those times when you want to show another side of your personality. If you've always wondered what it is like to be a "rock chick," this style of jacket, with various decorative pockets and buckles, will help you feel the part. The singing, however, is up to you.
Ready to Ride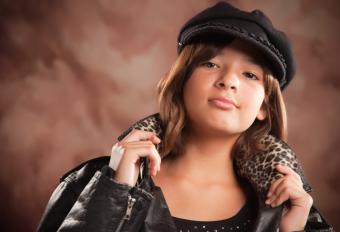 A black leather bomber jacket is the perfect attire to don when out riding on weekends. Match it with a chic cap, and there will be no stopping you. Don't own a motorcycle? You can still wear one of these cozy coats -- either lined or unlined -- trimmed with your favorite design.
Keeping it Simple
A classic black leather blazer is great to wear while shopping, out to dinner or on a date with your favorite person. It isn't the warmest item to wear during those blustery winter days, but is just right to wear on cooler spring and autumn evenings.
Faux Plus Size Leather Coats
Buy Now"
If you want to save a few dollars and are against the wearing of animal skins, then try a faux leather coat, such as this plus size biker jacket. It looks like leather, but in essence, it's really Dacron-cotton. Shhh... no one will know the difference!
Quilted Leather
Buy Now"
Add a little femininity to your outerwear with a waist length, quilted leather jacket. The jewel neckline, zipper detailing and front pockets are perfect for a plus size woman who wants a little more than just your average coat.
Classic Beauty
A traditional knee length, plus size leather coat will help keep the chill off during those long and fun days at the park, although it's not recommended to wear while swimming or wading in the water.
Flatter Your Features
Large-chested plus size women will do well in a leather coat or jacket free from large designs or extras. Instead of distracting from your features, this style will enhance them.
A Splash of Color
Need a change from the customary colors of leather coats and jackets. Even a plus size woman knows that not all shades are complementary to all body types. Don't like black leather? Brown, khaki and taupe are always good alternatives. Looking for more excitement? Try red, orange or yellow!
Don't Forget the Accessories
Now that you've found the perfect leather jacket or coat, don't forget to add a great-looking pair of boots. Many leather outlets and retails shops carry matching ones of these items, as well as purses, belts, hats and wallets. The possibilities are endless. However, if you are looking for a jacket to get you through those frigid winter days, you may be better off finding one that is more appropriate in the plus size winter jackets and coats gallery.