Plus Size Lingerie Gallery
Halter Chemise
More Details"
Plus size lingerie comes in so many styles and colors that there's something out there to make every woman look and feel sexy. These pieces are perfect for anyone wanting to add a little oomph to her lingerie collection.
This soft chemise mixes old fashioned glamour with modern style. The lightly lined lace cups give added structure and support, and the flowy draped body provides plenty of curve-skimming coverage. This brightly colored halter is a contemporary twist on an old favorite. In red, fuchsia, black, and gray and white in sizes 1X-4X for about $50.
For more details and to purchase any item in this gallery, click on the "More Details" or "Buy Now" button at the bottom of each image.
Flirty and Frilly
More Details"
This tiered babydoll is perfect for romance. Its tiers provide some coverage for the more reserved lover or for the plus size woman who doesn't want to emphasize her stomach and hips. The satin bow and ruffled layers are charming and playful without being too racy, and the adjustable shoulder straps offer a more custom fit. It comes with a matching thong in sizes 1X-4X for about $50.
Come Hither Camisole
More Details"
Sometimes the sexiest outfit is sweet and understated, as is the case with this camisole and tap pant set. Don't be fooled - this camisole is surprisingly seductive with its criss cross back and sheer mesh panels around the top. It's perfect for the woman who wants some extra coverage for her tummy and arms but who still wants to be sexy. This set is available in sizes 1X-3X in black, magenta, teal, and turquoise. It retails for about $50.
Playful in Purple
Buy Now"
Ideal for the hourglass figure, this bustier and panty set may seem subtle in style, but the purple lace screams drama. When you turn around there's even more to appreciate; the panties are cheeky in the back and have playful ruffles for even more fun. This set is ideal for the woman who wants to play up her bust and backside but distract attention from her stomach. In sizes 1X-4X, starting at around $30.
Serious Seduction
Buy Now"
With its many strap details, this teddy isn't messing around. In this, the wearer takes seduction to a whole new level. It is perfect for a special occasion or any time a woman wants to spruce up her love life. All the straps and vertical lines create a long, leaner look, which is perfect for the plus size woman. The stockings and garters are sold separately. The teddy comes in sizes 1X-3X for just over $40.
Voluptuous Velvet
More Details"
This velvet-enhanced teddy is not only beautiful to look at, but it's also sensuous to touch. There's nothing quite as sexy feeling as velvet, especially when it comes in a flattering boyshort cut to compliment curvy hips. This teddy is made of stretch mesh with raised velvet detailing. The style also provides a lot of support, which is key for a curvy figure. In sizes from 1X-4X for about $50.
Bridal Style
More Details"
Whether it's your wedding night or you just want to feel like it is, this white chemise is perfect for the classic romantic. The lace-up details in front keep this look fresh and anything-but-boring, and the side panels provide an extra-slimming look for the woman who wants to flatter her shape. Also available in black. The chemise comes in sizes 1X-4X for just under $40.
Lace-Trimmed and Lovely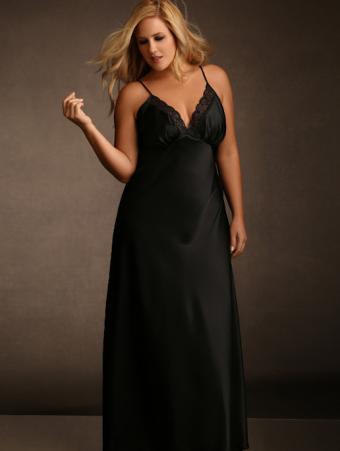 More Details"
Who says simple can't be sexy? This long satin gown with lace trim is so luxurious, the woman wearing it will be sure to feel confident and romantic. This is a great choice for the plus size woman since it is less revealing and not as tight as many other lingerie choices. Available in hot pink or black in sizes 1X-3X. Expect to pay about $40.
Provocative Pink
More Details"
Just because this babydoll is pink doesn't mean it's princessy. In fact, the hot pink satin on this lingerie is alluring, not dainty. The curve-hugging black lace around the back and sides makes this outfit even more flirtatious, and it has ample structure to keep your curves looking their best. It comes with pink garters attached in sizes 1X-4X, for about $40.
Sultry Sweetheart
More Details"
If a woman drinks a martini in this long lace gown, she'll think she's stepped onto the set of Mad Men. The see-through lace design with the flyaway skirt and keyhole back evokes romance, and it's perfect to surprise a romantic partner with because it can be worn as a slip underneath a long dress without anyone suspecting. A great choice for the woman who doesn't want to show off her hips and upper thighs, this garment offers plenty of coverage. Sizes 1X-4X in black, white, or red for about $50.
Femme Fatale
Buy Now"
A woman wearing this sexy black slip will definitely entrance her partner. The subtle pink bows may look innocent, but the black floral lace ensures that the wearer's night will be anything but. This longer slip has a slimming front panel and plenty of leg coverage for plus size women, and a matching thong is included. It comes in sizes 2-20 starting at just under $25.
A Vision in Violet
More Details"
For a sensuous, romantic, candle-lit evening, nothing fits better than this flirtatious purple babydoll. The body-skimming mesh both covers and highlights a curvy body, proving that more can, in fact, be less. This style is perfect for highlighting the shoulders and arms while keeping the torso slightly hidden. In sizes 1X-3X for around $45.
Anything But Innocent
More Details"
This beautiful robe makes for a seriously seductive evening. It radiates old Hollywood glamour with the sheer lace bodice, faux fur lining, and floor-sweeping skirt. Wear with a pair of heels and large gems to complete the look. From 1X-4X for about $40.
Garter Belt Getup
More Details"
For any woman who wants lingerie that is as supportive as it is sexy and can be worn under clothes while on a date, this garter belt is a great choice. The stretch mesh around the waist gives a bit of tummy support and the belt holds up a sexy pair of stockings. Bra sold separately. Belt available in all black or black and red in sizes 1X-4X for under $30.
Lace Up Luxury
More Details"
This black jacquard corset is perfect for the woman who wants support around her midsection and extra oomph in her chest. The corset has boning so that it keeps its shape and it has a seductive lace up back with a front zipper so that it's easy to put on. There's no turning down this racy number. Available in sizes S-6XL for about $40, but it runs small so you may want to size up.
There is plenty of plus size lingerie suitable for every size and every style, and there are even many options that are perfect for your wedding night and honeymoon. The only problem now is deciding which garment to choose to spice up your night!