Plus Size Lingerie Models
Plus size lingerie models are gaining more attention lately as magazines and other media are steering away from the skinny model trend, which is not surprising considering that 57% of American women wear size 16 or larger. In fact, there is now a fashion week dedicated exclusively to plus size models. The fashion world considers any woman size 8 or higher to be plus size, and there are plenty of beautiful lingerie models who fit this category.
Twelve Gorgeous Full-Figured Lingerie Models
1. Ashley Graham
Ashley Graham is one of the most well-known plus size lingerie models, due in part to the controversy over a television ad she filmed for Lane Bryant. The ad featured Graham wearing Lane Bryant bras and panties, and then covering up with only an overcoat to go meet her boyfriend for lunch. The commercial was deemed too racy by two major networks, despite the fact that similar ads from Victoria's Secret had aired on the same networks.
Graham was discovered at the young age of 12 in her hometown of Lincoln, Nebraska, and signed with Ford Models at age 15. She is a size 16.
2. Lizzie Miller
Lizzie Miller had been modeling for years when she suddenly became an overnight sensation. After a small photo of Miller in her underwear appeared in Glamour magazine, women across the country wrote in to tell the editors how much they loved it. The photo was not airbrushed, and featured a small belly roll as well as faint stretch marks. Miller was heralded as a 'real woman' - and her popularity soared. She was soon added to the Lane Bryant stable of lingerie models, and signed on for an ad campaign for Just My Size.
Discovered when she was just 13, Miller is represented by Wilhelmina. She wears a size 14.
3. Crystal Renn
Crystal Renn has been on both ends of the modeling spectrum. When she started her career she weighed a mere 95 pounds and was still told that she should lose some weight. After struggling with starving herself and working out for hours, she changed her mindset. She began to eat more and relax about her weight, and returned to modeling as a plus size model.
She has done several lingerie shoots, sporting designs by the likes of Dolce and Gabbana, and quickly became one of the hottest plus size models in the fashion world. Her size fluctuated between a 10 and a 14. She has written a book about her struggles in the modeling industry called Hungry: A Young Model's Story of Appetite, Ambition, and the Ultimate Embrace of Curves.
In 2010, however, Renn faced criticism from fans when she lost a good deal of weight. She maintains that she began exercising for health reasons, and that she's eating well. She is currently a size 8 (as of 2014).
4. Tara Lynn
Tara Lynn has made the most of her curvy figure. After starting her modeling career in 2008, she was tapped to appear on the cover of the Italian Vogue magazine along with fellow plus size models Candice Huffine and Robyn Lawley. The models are wearing lingerie on the cover and in a photo spread inside the issue. Tara Lynn is the face (and body) for the Plie brand of lingerie and undergarments, and a popular swimsuit model for H&M.
Tara Lynn wears a size 16.
5. Marquita Pring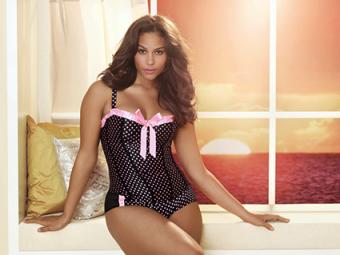 Pring posed for the inside feature in the same issue of Vogue Italia that featured Tara Lynn on the cover. Pring was also featured in lingerie, along with Tara Lynn and Candice Huffine, in the V Magazine 2010 size issue. Pring has even walked the runway for Jean-Paul Gaultier. She is known for wanting to change the term 'plus size' to 'curvy' and for admitting that, with her size 12-to-14 figure, she has had to pad her outfits occasionally in order to appear to be a solid size 14 or a size 16.
Pring was discovered in a scouting contest when she was 15, and she's currently represented by Ford.
6. Nancy Hayssen
Hayssen is probably best known for her shocking nude ad that appeared in Times Square. The photo, captioned "Love Your Body," was set above a picture of anorexic model Isabelle Caro, and was intended to raise awareness of how serious the disease can be. Sadly, Caro died from complications of her anorexia in 2010.
Hayssen promotes the idea of being sexy at any size, and has often posed in lingerie for photo shoots. While her dress size is unknown, at the time of her nude photo shoot, Hayssen was 169 pounds.
Hayssen is an inspiration to plus size women, and has even written a book, You Can Be Sexy at Any Size or Age!, encouraging plus size women to feel sexy.
7. Kumiko Ming
Known as 'the Jamaican Bombshell', size 18 Kumiko Ming has been very active in plus size modeling, sporting everything from lingerie to custom-made jewelry. Ming launched her modeling career at the age of 13 when she started appearing as an extra in movies and television shows. She has since appeared on the cover of Enfluenz magazine and in Pure Cash magazine.
Ming is represented by Loc N Grow Enterprises.
8. Fluvia Lacerda
Hailing from Brazil, and known as the 'plus size Gisele Bundchen', Lacerda combines her Latin beauty with a curvy size 18 body in many gorgeous photographs. She models plenty of lingerie as well as swimsuits.
In 2012, Lacerda was featured in both Vogue Italia and Bust magazine. In 2013, she was in lingerie on the cover of and feature inside Plus Model magazine. She is currently the face of Carmakoma's Lab27, whose Spring 2014 lookbook features Lacerda in bathing suits, bodysuits, and lingerie.
Lacerda was discovered on a New York City bus, when a magazine editor stopped her to ask whether she'd ever considered modeling.
9. Denise Bidot
Puerto Rican/Kuwaiti actress and model Denise Bidot has modeled for Forever 21, Macys, Target, Old Navy, Nordstrom, Lane Bryant, and Levis. In 2012, she was the cover model for Plus Model magazine. The size 14 model was the main model for Hips & Curves lingerie, a company that was founded in 2000 to celebrate the curvy figure, and that only uses models size 12 and up.
Bidot never thought she could be a model, so she attempted to become an actress. When she couldn't find many acting opportunities, she started working as a makeup artist, which is how she was discovered as a model. She is represented by Muse Model Management.
10. Robyn Lawley
Australian model Robyn Lawley is a stunning 6' 2", and, like many other plus size models, is frustrated by being called 'plus size'. Lawley has modeled for Ralph Lauren, and has graced the cover of French Elle and of several Vogue magazines (including sharing a Vogue Italia cover with Tara Lynn and Candice Huffine).
While Lawley did suffer from body image issues, she found that no matter how much she starved herself, a size 0 was unattainable for her, and she began to accept her curvier shape. In 2012, the U.S. size 8-10 Lawley was signed as the face of Boux Avenue lingerie. Lawley has also modeled for the Chantelle lingerie company.
Lawley moved to New York in 2010 to become a model but was frequently rejected due to her size. Her career finally began to take off in 2011 after being featured in Vogue Italia and French Elle.
11. Candice Huffine
Huffine is known for her naked and barely-clad photographs, such as her nude cover of Spain's S Moda magazine. That issue featured an editorial starring Huffine in 1950's-themed lingerie and accessories. Huffine has also been featured in W Magazine, V Magazine, Vogue Germany, Vogue Italia, American Vogue, and Harper's Bazaar. She was on the cover of Vogue Italia with Tara Lynn and Robyn Lawley. In 2013, Huffine was signed as a model for lingerie brand Maidenform.
Size 13 Huffine was first discovered during a pageant, when a woman in the audience told Huffine's mother to take Candice to New York to see modeling agencies. Huffine didn't need any more convincing than that. She is now represented by Muse Model Management.
12. Signe Nordstrom
You may recognize Nordstrom from Special K's 'Let Your Shape Shine' campaign, but the Swedish beauty had trouble becoming a model - she was told that she was too big to be a model, but too small to be a plus size model. Instead of being told to lose weight, Nordstrom was instead told to gain weight so that she would have success in plus size modeling. Nordstrom says that this advice allowed her to accept her body and ended years of disordered eating.
Nordstrom now stars in the campaign for 50 Shades of Grey Lingerie by KappAhl, a collection designed with the author of the book that aims to make women of all different sizes and shapes comfortable.
Nordstrom is 5' 11" and wears a U.K. size 12 to 14. She is represented by Ford Models.
Filling Out Lingerie With Curves
With the rise overall of plus size models, finding these ladies modeling lingerie is no surprise. With their generous curves they are naturally sexy, and women appreciate seeing models that are closer to their own sizes wearing all sorts of fashions - including undergarments and lingerie.