Plus Size Masquerade Costumes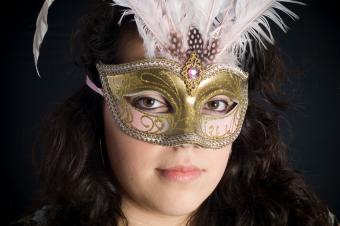 Whether it's for Halloween, Mardi Gras, a themed dance, party, or another event, masquerade costumes are fun and mysterious. There are many different options plus size women can choose from when they need a masked costume for their event, from simple to bold.
Options for Masquerade Costumes
The mask is what differentiates a masquerade costume from other types of costumes, and they can be found in a range of styles. You'll want to consider not only if the costume is appropriate for the event, but also what style preferences and mask types will work best for you. There are flattering options for full-figured women in a variety of costume and specialty stores.
Beautiful Bandita
Available at HalloweenCostumes.com, the Beauitful Bandita Costume features a dress with a bustier-style top and a hi-low black satin skirt with tiered ruffles. The black costume gets a glamorous touch with gold glitter details and offers a flattering look with a wide black belt. The velvet bodice has lace details and where the cape attaches features antique brass-tone studs. The costume includes the dress, a black satin cape, a black velvet hat with gold trim, a black molded plastic mask, and black gloves with faux patent leather cuffs.
It retails for approximately $200 and is available in plus sizes 1X and 2X. Shipping rates vary depending on the customer's shipping preference and overall weight of the order. Returns must be made within 60 days.
You can purchase a pair of high-heeled black boots to complete the look on the same website for $40.
Day of the Dead Costume
Bold, colorful, and unique, this Day of the Dead Costume from Yandy features a v-neck dress with a corset-style bodice and ruffled skirt with a bright skull print design. Additional details like a lace panel in the bodice, striped rainbow colored trim, and floral details create a great look for any masquerade party or costume event. The costume includes the dress, rainbow print scarf, and the Day of the Dead mask.
The costume is available for approximately $85. Shipping is free on orders over $70 and returns can be made after authorization.
You can purchase white tights from the website for about $3. Choose from a wide selection of red pumps and platform shoes starting at approximately $40 to complete the look.
Dark Sorceress
Sold from Sanctuarie Designs, this Dark Sorceress Costume is great for a plus size woman who wants a longer dress for her masquerade costume. The flattering v-neck costume is available in black or purple, and features a full-length crush velvet dress with long sleeves. The deluxe costume kit includes a magic wand, glittery eye mask, spider necklace and earrings, nail polish, lipstick, and body glitter for approximately $63. It is available in plus sizes 1X through 9X.
Shipping charges will depend on the overall weight of the order and the customer's choice in shipping methods. Returns on unworn items are accepted within 30 days.
Masquerade Queen
Excellent for women looking for an elegant option in a plus size masquerade costume, this Masquerade Queen Costume from Costumes Etc. includes a medieval-style hooped gown with a lovely detailed front panel and velvet sides that provide a slimming look. Lace details and a sheer front ruffle provide additional sophistication to this regal look.
The costume includes the dress and a decorated matching eye mask and comes in one size designed to fit sizes 16-24 for $65. Shipping prices vary depending on the order, and the store does not accept returns. Exchanges and store credit are available in select circumstances.
Jester Costume
A jester costume is a fun style for a masquerade party or event. This Harley Quinn Jester Costume from Wholesale Halloween Costumes takes on a twist on the traditional jester with a fun, flirty look styled after a character in the Marvel film Suicide Squad. The costume includes a red and black patterned dress detailed with white ruffles, glovettes, and red and black thigh highs with stirrups for approximately $50. It comes in size 14-16.
It does not include the mask, but you can purchase a black mask separately from the same store, such as this black sequin mask for about $2. Pair with your favorite black pumps to finish the style.
Shipping starts at approximately $5 and goes up depending on shipping preference and weight of the order. Items can be returned within 10 days.
DIY Masquerade Costumes
Part of the fun of a masquerade costume is that you can play around with almost any look and turn it into something appropriate for the event by adding a mask. You can unleash your creativity, save money, or create a last minute costume by making it yourself.
Basic Mask Instructions
For any of these DIY costumes, you can either use a ready-made blank mask and decorate it, use a template, or use your creativity and make your own mask.
Supplies
To make your own you'll need:
Lightweight cardboard
Paper
Craft glue
Hot glue
Elastic
Instructions
Measure the length and width you'll need for the mask based on your face shape and size.
Draw a pattern for the mask first, making sure to account for extra room over the nose area as the mask will indent there.
Draw the mask with a slight upward swoop under the nose and going out in a winged manner past the eyes. Cut out eye holes appropriate for your face shape.
Use the pattern to cut out the mask on cardboard and on plain paper, and glue the plain paper to the cardboard. Leave a small spot in the middle of the mask on each side unglued to attach the elastic.
Measure the elastic to fit comfortably around your head and attach to the mask with hot glue.
Elegant Mystery Woman
An elegant decorative mask looks doesn't have to be difficult to create.
Supplies
To get this look, you'll need:
A mask
Craft paints - use paints with a glossy finish for a fancier look
Feathers
18 inches or more of rick-rack in a color that matches your paint colors for the border
A pendant from some old costume jewelry or a large acrylic craft jewel
Small craft crystals
Craft glue
Hot glue
Instructions
To decorate:
Paint your desired design, such as this one with various blue swirls, with your glossy craft paint.
Once the paint is dry, use craft glue to attach the rick-rack around the border.
Affix small crystals around the eye holes with craft glue
To make the plume, use hot glue to attach the feathers, and then place the jewel in the center.
To finish off your elegant look, pair the mask with a black wrap-style dress, which is flattering to curvy women and creates the look of a small waist, and your favorite pair of high heels.
DIY Mardi Gras Costume
Have fun creating your own Mardi Gras look for a masquerade event.
Supplies
To create this look, you'll need:
A colored wig
Gold fleur-de-lis and other gold embellishment as desired
Gold glitter lipstick
Plain flat hoop earrings
Large gold, green, and purple sequins
A green or purple halter dress or top and skirt
Gold glitter
Hot glue
Fabric glue
Instructions
Affix the fleur-de-lis and other gold decorations to the wig carefully using hot glue.
Apply hot glue to the front of the earrings and affix sequins. When dry, repeat on the other side.
Use fabric glue to attach a design with the sequins at front of the halter dress or skirt near the neckline.
Create a mask in Mardi Gras colors purple, green, or both and decorate with gold glitter, sequins, and any other embellishment desired.
DIY Flapper
A sassy yet sophisticated option, you can create a simple flapper girl costume using some simple items.
You'll need:
A basic black sheath dress or flapper style dress (available at many vintage resale shops and reproduction stores like Unique Vintage)
A black sequin headband
Black gloves
Faux pearl earrings and necklace
Red lipstick and dark eye makeup for a 1920s makeup look
For the mask, you can decorate the basic one above with feathers, black lace, or black netting to give it a flapper-era feel.
All of these items can be found easily, so just put them on together to create your costume. The flapper style look is a great option for plus size women as the sheath or flapper style dress skims away from the body.
Regal Masquerade Costume
A gold, richly decorated mask gives a regal feel. Look like royalty in a queenly costume.
Supplies
For the mask, you'll need:
A pre-made gold mask, or a DIY mask painted gold
Gold glitter glue
Acrylic craft jewels
A strand of gold beads
Feathers
Hot glue
Instructions
Use the gold glitter glue to create designs on the mask as desired.
Once the glue is dry, affix the feathers to the top of the mask.
Place the craft jewels along the top of the mask, creating a larger design in the center.
Add the gold beads, placing them in a design that mimics the shape of a crown.
Finish off your costume with a full-length dress in gold or a rich slimming jewel tone and a pair of fancy sandals.
Marvelous Masquerade Styles
There are many options for plus size costumes when it comes to masquerade looks. While the mask is an important feature, finding a costume that makes you look and feel wonderful will let you have the time of your life at whatever masquerade event you are attending.