Plus Size Models Portfolios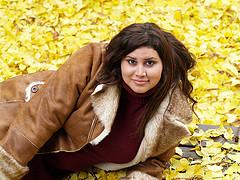 Your portfolio is one of your most valuable tools when pursuing a career as a plus size model. If you're not receiving enough modeling work, it could be that your portfolio is working against you. Also, for newcomers who are interested in how to become a plus size model, you want a portfolio that has everything you need in it to ensure that you are successful.
Preparing Your Plus Size Modeling Portfolios
When assembling your portfolio, be aware that how you put it together can work for or against you. Consider these tips when putting your portfolio together.
Choosing a Photographer
Good photographs are essential. Although professional photographers' rates may be expensive, this will probably be one of your biggest expenses. Having professional quality photos shows agents and clients that you are serious about your work.
Keep in mind that many modeling agencies will refer you to their photographer, someone they're familiar with and trust.
Photo Quantity
Have enough photos: You should have at least 10 good images of yourself in your portfolio. An ideal collection has between 12 to 15 photographs in 8x10 sizes. This number allows you to show clients how you look in a variety of settings.
Photo Variety
Show yourself in different situations. A plus size model's portfolio needs:
A head shot
Full-length body shot
A shot of you showing off your beautiful smile
Action shots
Portfolio Assembly
Professionalism is key when putting together your portfolio. Assemble a portfolio in an actual portfolio case, not a photo album that you'd keep at home for showing off family photos. You'll need a case that's fairly sturdy and good-quality; your plus size modeling agency will send you on go-sees and many clients may look at your model book.
Your photos should be contained in clear sheet protectors and should be arranged so that the portfolio starts off with one of your best shots and ends with an equally strong one. You can find affordable portfolio cases at office supply stores and art supply stores.
Remember that placement counts. Viewers' eyes tend to fall to the right side of books, so be sure to place your best photos on that side. You can place photos on the left side too, but if in doubt, place stronger images on the right. Any damaged, weak or bent pictures should not be placed in your portfolio.
Important Career Tool
If you're interested in a career in full figure modeling, your portfolio helps to show agencies and clients just how serious you are. It's not only about how you look; it's also about having the right attitude and being professional. Modeling is a business, and like other businesses, people who show up on time with all of their essentials in order, are more likely to succeed. Your portfolio goes a long way toward showing how you'll approach your career.