When looking for a plus size party dress, you have to consider the event you'll be attending. You want to be dressed stylishly and appropriately. Luckily, a number of traditional and online retailers, as well as specialty stores, offer a variety of options so you can find exactly what you need to suit any occasion.
Appropriate Styles for Specific Events
There are many different styles of party dresses available in plus sizes. Once you determine the type of dress you need for an event, you'll have plenty of options to suit your needs.
Evening and Formal Dresses
When you receive an invitation to an event requiring formal attire, you are expected to wear a floor length gown. Depending on your personal taste and the specific occasion for the event, you can choose a very simple or a more embellished style of floor length dress.
Black Tie Events: Any event requiring a man to wear a tux is a very formal affair. For an event like this, you want to keep things simple and elegant. Avoid patterns and excessive amounts of sequins and beading. This beautiful illusion lace neckline dress by Adrianna Papell is a perfect example of the understated elegance you should aim for when attending a black-tie event.
Formal Events: For a formal event that's not designated as black-tie, you can go for a less conservative floor length dress with a little more flair. Something like this beaded gown from Adrianna Papell would be a wonderful choice.
Cocktail Dress
Cocktail dresses are the most versatile style of party dress. They're generally knee length or just above and can be worn to many semi-formal occasions. There are countless incarnations of the cocktail dress to choose among, including bold colors, lace overlays and embellished necklines.
Weddings and Anniversary Parties: Avoid sequins and any other flashy attention-getters at weddings and anniversary parties. These events are celebrating specific people and it's their night to shine. Stick with a simple cocktail dress like the Lace Cocktail Dress from Kiyonna.
Charity Events: You want to be sure to dress respectfully for the tone of the event. Yes, it's a party, but it's for charity, so nothing super-festive is appropriate. Try an updated version of the little black dress like this ruched version from Kiyonna. If black doesn't seem to fit the event, this dress comes in rose and ivory as well.
Holiday Parties: Holiday parties are the perfect event to go big for sequins, sparkles, etc. Nothing is off-limits. Something like this Lafayette 148 embellished dress would be perfect.
Semi-Formal Events: You have lots of leeway at cocktail and other semi-formal events. Don't go too overboard; it's important to look sophisticated. Try a bright color or an interesting silhouette like one-shoulder or an asymmetrical hem. The Teagan from Igigi is a great example.
Casual Party Dress
Casual party dresses are the least formal special occasion dresses. You can go for a shorter length and bolder patterns than would be appropriate for more formal events.
Where to Buy Plus Size Party Dresses
Department Stores
Most major department stores have a great plus size section for sizes 16-24 with a range of special occasion dresses.
Unusual casual party dress

Nordstrom has a wonderful plus size section with dresses from Michael Kors, Calvin Klein, and Ralph Lauren. They carry mostly cocktail and formal dresses costing roughly $100 to $500.
Saks Fifth Avenue is a great source for any party dress you need. They're stocked with fabulous designs from the likes of Kay Unger and Tadashi Shoji. The price-point is at the higher end with most dresses costing between $250 and $600.
Bloomingdale's has great dress options from Tahari and Eileen Fisher. They have styles ranging from casual dress to evening gowns with most prices from $150 to $400.
Dillard's has many special occasion dresses for casual up through very formal events. They feature some great designers like Adrianna Papell and Jessica Howard at more affordable prices ranging from $50 to $250.
Lord & Taylor had great options for casual events and cocktail dresses from Jones New York, Karen Kane, and Anne Klein. Prices start at $100 and go up to around $250 for most items.
Neiman Marcus offers a handful of high-end plus size cocktail dresses. They sell styles from Aidan Mattox and David Meister, among others. Most dresses are cost between $300 and $600.
Online Retailers
Many online retailers offer plus size clothing along with standard sizes. You can often find great party dresses on sites you may not have considered checking out.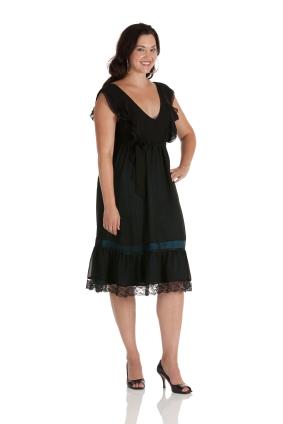 Plus Size Specialty Stores
There is also a nice selection of stores and ecommerce sites that cater specifically to full-figured clientele. These sources often and offer more plus size options, in both size range and style selection, than other stores.
Tips for Finding the Perfect Party Dress
Follow these tips when shopping to get the perfect dress:
Whenever possible, get something you'll be able to style a few ways with different accessories so you can get the most for your money.
Know your body so you can choose a dress that helps play up your assets and minimize the areas you're less than thrilled with. Go for a longer hemline to hide your legs or choose a long sleeve dress if you're unhappy with your arms.
Belts, when they work with the dress, are also a great way to cinch in your waist and make it appear smaller.
Comfort Is Key
Most importantly, get something you're comfortable in. You have to feel good in what you're wearing to look good in what you're wearing. If you're self-conscious about the fit or color or cut, you'll be too preoccupied with yourself to enjoy the event.