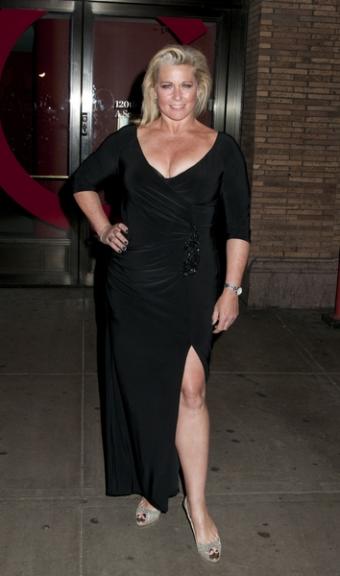 Many types of events are considered semi-formal, so it's always good to have an appropriate dress on hand. Luckily, semi-formal dresses for plus sized ladies are widely available and come in a broad range of styles.
Flattering Semi-Formal Dresses for Full Figures
When it comes to semi-formal events, you have a lot of flexibility in choosing a dress. Consider the following styles to complement your figure and look appropriate for your "dressy occasion."
Classic Little Black Dress
If the formality level of your semi-formal event is unclear, a little black dress (LBD) is the perfect go-to. It's always an elegant and appropriate choice. You can't go wrong with an LBD, and this classic version from Igigi would be appropriate for any occasion. The three-quarter sleeves and knee length provide coverage for typical problem areas, while the square neckline is perfect for work or play.
Remember you can also play with different fabrics and textures. Silk is always a great semi-formal option; but velvet is gorgeous for colder months, and lace is a great way to add a sexy, feminine touch to any LBD.
One Shoulder
If you already have a classic, try an updated version like this one-shoulder dress from Vera Wang for David's Bridal. One-shoulder styles are great for plus size women who want to draw attention to their necklines and shoulders and away from tummies and thighs. It's also a great way to look sexy without revealing too much cleavage.
An asymmetrical hemline or ruched detailing can also spruce up the looks of a classic black dress.
New LBD
The new LBD is essentially a great go-to dress that isn't black. This beautifully-cut cream dress from Tadashi Shoji is a perfect example of the new LBD. The a-line waist with embroidered detailing is the perfect way to add flattering definition to a plus-size figure. Rather than adding volume, textured fabric actually creates the illusion of a slimmer figure and uses the direction of the drape to draw attention to the right areas.
Cut and color: For a new LBD, you'll want to stick with a similar cut as your classic, but go for a different color.
Focus on the dress: Make sure you choose a color that is flattering for your skin tone and keep the rest of the outfit neutral. Your dress should be the focus of your outfit.
The Wrap Dress
The wrap dress is universally flattering. Many upscale versions are available that are appropriate for semi-formal events. Try one like the Whimsy Wrap Dress from Kiyonna. Made from silk-y material and available in several colors, a dress like this can easily be dressed up or down to suit a range of semi-formal events. Wrap dresses are a great plus size silhouette because they highlight the waist, generally the slimmest area of a woman's body. The cinched waist creates an hourglass figure, while the loose skirt covers a multitude of sins on the lower body.
More tips for a semi-formal wrap dress include:
Fabric: When choosing a wrap dress for a semi-formal event, go with silk or something texturally similar.
Accessorizing: If you're going to a more serious event, throw on some heels and you're done. If your event is more festive, pair your semi-formal wrap dress with a statement necklace and clutch.
Prints and Patterns
As a general rule, you should avoid patterns and prints for semi-formal events. However, there are a few exceptions. If your event is a semi-formal luncheon, you can consider a subdued print since it's a daytime event. It's also appropriate to wear a print, if you so choose, to certain semi-formal events taking place in Spring and Summer months.
A patterned dress like this floral print dress from Roaman's is a great choice for daytime and summer semi-formal events. The color palette is limited, the fabric is silk-y, and the silhouette is elegant. When wearing prints, you want to be extra vigilent about the silhouette you choose. The a-line featured here is extremely flattering on plus size figures because it draws attention to the bust, slims the waist, and covers the upper arms, belly, and thighs.
Wear it at the right time: Only wear printed and patterned dresses to semi-formal events that are on the more casual end of the spectrum.
Appropriate fabric: You still need to choose appropriate fabrics like silk.
Go simple: Go with simple prints in limited color palettes. For example, it would be appropriate to wear a navy and white polka dot dress to a semi-formal lunch or a white dress with navy and light blue floral print to a summer cocktail party.
Bold Embellished Dresses
Embellished cocktail dresses are a great choice for festive semi-formal events like birthday and holiday parties. Sequins and beaded detailing jazz up simple designs and give them a fun vibe suited to celebratory semi-formal events.
This beaded number from Patra is a fun choice for the right event. This style is flowing, giving the illusion of a thinner bodice. The top and elastic waist cover the tummy, while the loose sleeves make for a flattering silhouette.
Subtle Detail
For something more subtle, try a design like this one with beaded shoulders from Kasper. The block coloring camoflagues the mid-section. The embroidered a-line adds texture to the dress and gives a flattering shape to hips and thighs.
If you go with an embellished style, consider the following:
Don't be overdone: All-over sequins are a bold choice. If you go for it, keep the colors basic gold, silver, or black and consider a matte sequin over a shiny one. Colored sequins are a bit much and often look cheap.
Small areas of embellishment: If you're going for slightly quieter embellished look, try a dress with a beaded neckline or beaded detailing at the waist. Small areas of beading are a fantastic but more subtle way to wear embellishment than sequins.
Go light on accessories: Whatever direction you choose, keep the rest of your outfit (shoes, jewelry, bag) very, very simple with neutral colors and classic styles.
Best Places to Buy Plus Size Semi-Formal Dresses
Department Stores
Lots of major department stores have a extensive plus size sections for sizes 16-24 with a variety of special occasion dresses appropriate for semi-formal events. Semi-formal dresses are available year-round with selections updated seasonally. The best plus size dress sections are at:
Saks Fifth Avenue offers semi-formal dresses from designers like Kay Unger and Tadashi Shoji. The price-point between $250-$600.
Macy's offers some great cocktail dresses from designers like Baby Phat and Marina. Prices are around $75-$250.
David's Bridal is a great source for semi-formal dresses. They sell their own label, as well as a collaboration with Vera Wang. Dresses cost $100-$250.
Plus Size Online Stores
Many websites cater specifically to plus size clientele and offer more options, in both size and selection, than mass retailers. They have semi-formal dresses all year and change their stock seasonally. The plus size specialty stores with the best dresses are:
Fullbeauty sells plus size dresses from numerous online specialty stores including Roaman, Ulla Popken, and Alex Evenings. You can find a wide selection of semi-formal dresses costing between $50-$250.
Kiyonna is a great source for plus size cocktail dresses. They sell their own label and prices range from $100-$200.
Igigi is a plus size line that has a fabulous selection of cocktail dresses for roughly $100-$225.
Plus Size Semi-Formal Dress Shopping Tips
There are a few important things to keep in mind when shopping for a semi-formal dress:
Don't rush into a purchase. Make sure you look at several stores and try on a variety of styles so you know what's out there and what looks good on you.
Try to buy a dress you can easily change up with different accessories. This way you can get as much use out of your semi-formal dress as possible.
Make sure the silhouette is appropriate for the event. For example, if you're attending a charity dinner, you want to keep things simple and elegant. Go with a more conservative style (straight skirt, high neckline, long sleeves, etc). If your event is more festive, like a birthday or holiday party, you can go with flashier, flirtier styles (low cut, shorter hemline, full skirt, embellishment, etc.). Use your best judgment.
Ruching is your friend! It draws attention to the good parts and camouflages the bad.
Choose something you're comfortable in. You want to wear a style and color that plays up your assets and hides areas you're less than thrilled with. You want a dress that makes you feel beautiful and confident.
Versatile Semi-Formal Dresses
Most semi-formal dresses are extremely versatile and make great additions to any wardrobe. Cocktail dresses are the most ubiquitous type of semi-formal attire; they generally hit at the knee or just above or below it by about an inch or two in either direction. Cocktail dresses are always a safe and appropriate choice for semi-formal occasions because they're dressy without being overly so. It's important to avoid over-dressing for an occasion as much as under-dressing for one; skip anything floor length as that ventures into officially formal territory. With multiple styles, cuts, and fabric choices available, you can easily find a semi-formal dress suited to your body type and the tone of the event you're attending.
Remember that shopping is fun! Don't stress out if don't see something you love right away; with so many options to choose from, you will be able to find a style that suits you.