Plus Size Straight Leg Jeans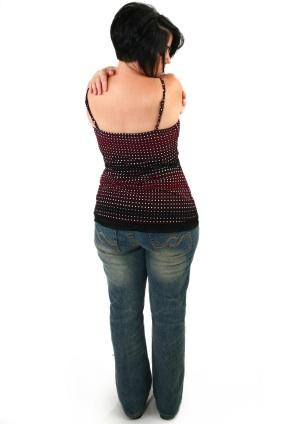 If you're looking for jeans that offer a leg-lengthening look, try the flattering style of plus size straight leg jeans. They make a great casual statement and can be worn with informal footwear like sneakers, sandals or flip-flops or dressed up for a night out.
Finding the Right Size in Plus Size Straight Leg Jeans
Straight leg jeans offer a classic fit. If they fit right, they should not be too tight or too loose. Wear them just below your natural waistline and they present a nice straight-leg silhouette. Doesn't that sound easy? It is until your build doesn't seem to work with the "below your natural waistline" cut of the jeans. Fit is as important as style-in fact even more important, because the style won't matter if the jeans gape at the waist, ride too low in the back or bunch at the crotch.
Brands and Fit
As much as you may desire a certain name brand, before you buy your plus size jeans be sure to try them on. Ask if straight leg jeans are right for you. Here's how to measure to ensure a good fit:
Measure your waist
Measure your hips at their widest
Measure your inseam
As you take your measurements, be sure to stand with your weight balanced evenly on both feet. Then as you take your measurement don't pull the tape tight. You'll want to leave room for day-to-day fluctuations in your body weight.
And the best way to measure your inseam yourself is to choose a pair of pants that fits you well in length as well as in the crotch. Place the end of the tape measure at the crotch seam and measure the inseam to the bottom.
Popular Brands
Straight leg jeans have different looks depending on the brand you choose. Some offer a more relaxed fit with more room in the hips and thighs while others present a more tailored fit. Here are a few choices to help you start the hunt for that perfect fit:
Dress Up Your Straight Leg Jeans
A dark-wash straight leg cut jean is easy to dress up. Because the fit falls slightly over the shoe, they look good with boots or dress shoes including heels. For a quick dress up look, try combining your straight leg jeans with a tunic-style top. For a flattering, slimming look choose a tunic that hits no lower than mid-thigh. And if you have a rounder stomach, avoid a tunic with an empire waist.
For an even dressier casual look, you can add a blazer. Be sure to keep the jacket fitted and cropped for a fresh updated look. Once you find the right fit, your straight leg jeans make a flexible addition to your wardrobe.