Plus Size Tampa Bay Buccaneer Clothing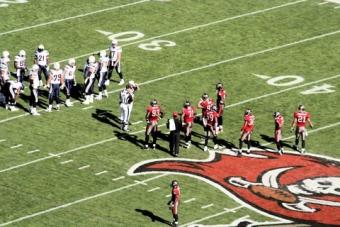 Whether you're tailgating at Raymond James Stadium in Florida or cheering from your living room couch, plus size Tampa Bay Buccaneer clothing will definitely elevate your status as a Bucs fan.
Wearing the Colors
Die-hard Buccaneer football fans will tell you that wearing the team's colors -- red, pewter, black and orange -- is how they show loyalty to their team. Some make it a point to wear something with the team colors or logo on the day of the game, whether or not they are actually going to be there for the kick-off. Others will go a little further with their team spirit and add an official hat or visor. Then there are the fans who dress up in full NFL-licensed team gear head-to-toe. These are the people who probably also have a Bucs sticker on their car or truck, a Bucs key chain and wear their Bucs shorts to bed.
Whatever level of team colors you decide to wear, don't let your size keep you from showing your team loyalty.
Check Out the NFL Gear
Reebok has the license to design and manufacture the authorized NFL apparel that you can find at all the fan shops and online at various retailers. The NFL licenses its name and the logos of its teams to a clothing company that will, in turn, produce team logo apparel for players and fans.T-shirts, sweats, jackets and shirts are all offered in the traditional Bucs colors.
Men's clothes are readily available to size XXL, which fits up to a 55-inch chest. Some stores, such as JCPenney, carry NFL gear to men's size 4XL.
NFL apparel for women is in a more restricted size range with T-shirts and tops only available to a size XL, which fits up to a 44 inch bust.
The great news about team gear is that the styles lend themselves to be worn by both men and women. There is no reason why a woman can't wear a piece of team apparel from the "men's line." This opens up the entire NFL-licensed line to women.
Non-licensed Logo Gear
Many stores, including the Tampa Bay Buccaneers official online store, carry Bucs apparel that is not licensed by the NFL. This apparel often comes in a larger size range and the sizes tend to run a little roomier than the NFL gear.
Putting a Look Together
The two key goals in a great team look are wearing the team's colors and selecting separates that are comfortable to wear.If you are attending a home game, the weather might call for shorts with your Bucs t-shirt. But, if you are a Tampa-transplant living in Chicago, you might want to opt for something warmer like a warm coat over your Bucs t-shirt, a red scarf, boots and warm socks.
Where to Buy Plus Size Tampa Bay Buccaneer Clothing
Plus size Tampa Bay Buccaneer clothing can be purchased at fan shops throughout the United States and online. The closer you get to the Tampa area, the better your chances to find Tampa Bay Buccaneer gear in all types of stores from high-end clothing retailers to grocery stores. And of course, the best place to buy gear wear is at the game!
If you don't have an NFL fan shop nearby, and you don't plan a trip to Tampa, here are several online sources:
Casual Male XL - Men's shirts and jackets to size 6XL
QVC - Women's NFL separates to size XXL
NFL Shop - Women's t-shirts, jackets and pants to size 4 XL
eBay
Show Your Team Spirt
Sports clothing such as the Tampa Bay Buccaneers pieces don't necessarily have to be worn during football season. If you are proud of your hometown team, show off its colors year-round. Many of these clothing retailers also sell these items off-season too.