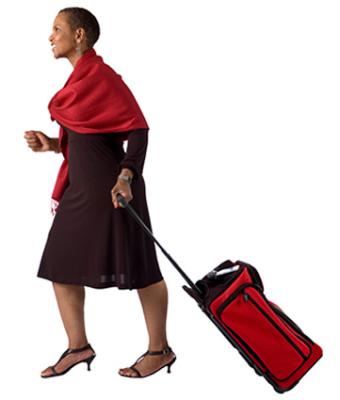 Selecting the right plus size travel clothes can make the difference between a great business or leisure trip and a travel disaster. Finding travel wear designed with full-figured women in mind can be challenging, but it is not impossible when you patronize companies that stock affordable travel wear in extended sizes.
Business Travel Wear
Mix and match blazers, skirts and slacks in neutral or classic colors with pieces like blouses, shells and tees to create many looks without having to pack too many pieces. For example, pair a figure flattering black blazer with a white no-iron blouse and a black skirt for meetings, seminars and presentations. For evening dinners or events, switch the skirt for slacks or jeans and change accessories. Browse these stores for affordable plus size business travel apparel:
Goddess on the Go
If you are looking for sustainable travel clothing that is also wrinkle-resistant, lightweight and easy-care, the exclusive Lenzing Modal® fabric used in Goddess on the Go's mix and match garments is worth a look. This natural fiber is made from beech tree cellulose and sheds wrinkles, resists staining, and dries quickly - a traveler's dream. Shipping costs are based on package weight and destination, and if you are unhappy with your purchase, use the "contact us" page on their website so they can resolve the issue.
They offer a large range of packable business-ready attire in a rainbow palette of colors, sizes and styles. Options include:
Tie Jacket: Make this versatile jacket your go-to garment for your travel needs. Worn open, the loosely dangling edges create the illusion of slimness. Tie it at the front to flaunt or create a trim waistline or to the side to conceal a less-than-perfect midsection. When worn back to front, it disguises any hip and tummy issues and plays up a pretty backside. It works as well with skirts and slacks as it does with dresses. With over 20 color options, you can coordinate it with just about any other pieces. It's available in sizes XL, 2XL and 3XL for under $65.
Pencil Skirt: This companion piece to the Tie Jacket features a back seam and two kick pleats for a flattering fit that smoothes out the torso so you look taller and slimmer. Pair it with an untucked tunic length top and use a low-slung statement-making belt for the ultimate long-over-lean look. It's available for under $40 in the same colors and sizes as the jacket, so you can opt for a matching or complementary color to suit your taste.
Coco Tank Dress: Show off your curves to best advantage with this back seamed sheath dress. The sexy calf splits add a little pizzazz to an otherwise classic dress style while making the legs look longer and thinner. The seamed back draws the eye along the body vertically for slimming style. Available in the same colors and sizes as the Tie Jacket and Pencil Skirt, this dress makes a dependable travel companion for under $60.
Misook
Shop Misook for high-end, upscale clothing, and use their Essentials collection to find separates you'll love to build a functional business capsule wardrobe in sizes 1X to 3X. Prices start around $178 for tops and go as high as $375 for dresses. Essentials garments are manufactured from a packable, wrinkle-free acrylic fabric that is perfect for travel. Shop online or use their store locator to find a store. Shipping charges are determined by merchandise order totals. Unwanted items in like-new condition can be returned within 60 days, and Misook pays the shipping costs for returned items.
Look for mix and match champions like these:
Scoop Neck Tank: You'll love the feel of this luxurious fabric that gently caresses curves without revealing figure flaws you'd rather conceal. It's the ideal companion for skirts, jackets and cardigans. It comes in three staple colors in sizes 1X to 3X and retails under $179.
TravelSmith
The mission of TravelSmith® is "to make travel as hassle-free and pleasurable as possible." TravelSmith carries an extensive line of wrinkle-resistant, packable clothing in sizes 1X to 3X. Prices range from under $25 to $200. The dollar amount of the order determines the shipping rate. It's free to ship back items for exchange, and replacement items ship back free as well. Subscribe to their email list for exclusive offers and travel tips.
Casual Travel Wear
When you travel for pleasure with no thoughts of work, you want a suitcase full of comfortable yet stylish fashions. Even the busiest business professional gets downtime, which means packing casual clothes as well as professional attire. In either case, choosing travel-friendly casual options makes your trip more fun and keeps you looking polished from dawn to dusk.
REI®
REI® carries a small line of travel clothing in plus sizes XL to 3XL at price points ranging from $55 to $250. Styles ranges from tops to bottoms to outwear and are primarily geared to the hiking/camping/backpacking demographic. Shop online or at a local store. Orders over $50 ship free, and they offer a one-year replacement or refund satisfaction guarantee.
Chico's
Chico's is known for its Travelers collection, a line of wrinkle-resistant, travel-ready clothing made from a blend of acetate and spandex. They offer standard and petite plus sizes in a narrow range of dresses, tops and bottoms that are perfect for cruises and other vacations. Prices range from around $45 to under $140.
Chico's sizing is nonstandard - sizes 3 and 3.5 are equivalent to plus sizes 16 and 18; sizes 4 and 4.5 are equivalent to 20 and 22. Most plus size items are sold online only, so check with your local store before going shopping. Shipping costs are determined by destination and package weight. Unworn items can be returned for up to 60 days.
Stylish Traveling
Begin with a well-organized plan and a packing list to make packing go smoothly. Keeping your destination and activities in mind as you pack helps prepare you for the most successful and enjoyable experience. With modern advances in fabric technology, more stylish options for plus-sized women, and accessories perfect for any agenda, your travel wear can arrive in great shape, allowing you to showcase your shape - whether your trip is for work or for play.