Cute Plus Size Sundresses
There are so many cute plus size sundresses on the market these days that will play up your gorgeous curves, show some skin, and help you embrace that summertime weather. Stay cool, comfortable, and fashionable with the following styles. Click on the ones you like (where it says "More Details" or "Buy Now") to find out where to shop.
Bare Shoulders in a Different Way
Buy Now"
You're probably used to seeing the traditional sundress style with spaghetti straps, but those may not always be your first choice. This one, great for almost any body shape, has the hint of a tiny strap on each side, but they're part of a stylish cut-out cold shoulder style.
Pair it up with anything from pumps to understated gladiator sandals. Though you may not be able to wear it to work, it's a more modest style that still has a fun design. It comes in army green, black, blue, and red, in sizes Large through 4X. It costs around $20.00.
Boho Style
Buy Now"
Here's a light, breezy, boho style that will skim your curves and keep you cool during hip music festivals and other outdoor summer events, especially for pear-shaped ladies. Thanks to the wider straps, you'll be able to wear your normal bra instead of a strapless (always a relief!).
This dress begs for cute and comfy footwear styles like flip-flops or ankle-wrap sandals. It also doubles as a swimsuit coverup, so feel free to go barefoot with it. Choose from black denim, light denim, medium denim, and dark denim, in sizes up to 3X. It's only around $20.00.
For the Romantic
More Details"
The aptly named Holiday Romance Sundress is black with purple flowers or white with red cherries. It has a classy Audrey Hepburn vibe, perfect for picnics with your love, weddings, or vacations, thanks to its modest length and piping along the waist.
If you like to show off your waist but carry extra weight around your lower belly, this style could be perfect. The square neck will show off your neck and shoulders without putting too much on display, too.
A dainty pair of sandals or pumps and a messy updo will finish off the look. Demure white cardigan optional. The dress costs around $120.00.
Nautical, Feminine Vibe
More Details"
The striped pattern and color scheme (available in blue/ivory or navy/cream) give this dress a summertime-friendly nautical feel. The v-neck, empire waist, and high-low hem combine to make this a flirty, feminine style without veering too far into "girly" territory.
Paired up with kitten heel sandals, it will be perfect for dates, vacations, afternoons out with girlfriends, and more, plus it's flattering on most body types. Expect to pay around $120.00.
Citrus and Sky
More Details"
Orange, white, and light blue are always hot colors for sundress weather, and this Crochet Painted Stripe dress has all the bases covered. Even the crocheted bodice and gauze skirt get it right for summer, especially when worn with strappy tan sandals.
It's available in size 14/16 through 26/28 for about $60.00. Large-busted ladies may find that this balances their shape thanks to the solid color on top and patterned white skirt.
Crochet and Gauze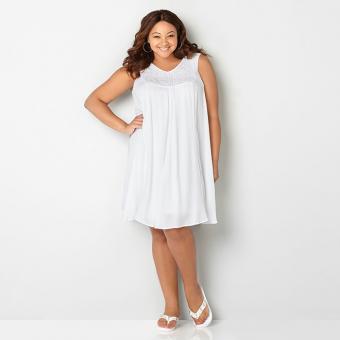 More Details"
If you love the breezy feel and texture that crochet and gauze provide, you'll love this flattering white sundress, available for about $60.00 in size 14/16 to 30/32. If you plan to do a photo shoot where everyone wears white against a beach background, this one might be just what you're looking for.
The gorgeous crochet detail extends beyond the neckline area on the front of the dress; it's in the back, too. Bonus: No strapless bra required and its subtle shaping means it will work well on most body types. Wear it with casual white or tan sandals.
Fit and Flare
More Details"
If you're an hourglass lady who loves dresses with surprising cutouts, you'll want to go ahead and add this one to your wish list now. It's available in sizes 16 to 28 for under $100.00.
The fitted waist and flared skirt will play up your curves and the tie at the top adds visual interest and a little volume (great for pear shapes). Metallic or tan sandals with short heels will finish off the casual, flirtatious look.
Sharkbite-Hem Swing Dress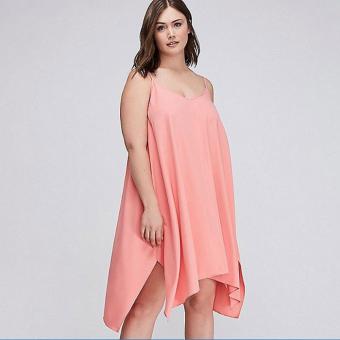 More Details"
Regardless of your shape, this shell pink, flowing number will keep you cool, comfortable, and looking great. If you love your waistline and want some definition around the middle, adding a skinny belt (silver, tan, black, or white will be perfect!) is an option.
Dress it up with a pair of three-inch sexy heels, or just go the flat sandal or flip-flop route. This dress is versatile enough to navigate almost any summer occasion, and it's under $100.00.
Ruffled Off-the-Shoulder Dress
More Details"
Add balance to pear shapes with this ruffled off-the-shoulder dress that will help create the illusion of an hourglass figure while showing off your gorgeous shoulders and décolletage. It's available in this summer-worthy shade of light blue, in sizes 1X to 4X.
Wear it with casual sandals, big sunglasses, and a wide-brimmed hat to look laid-back and glam all at the same time. Expect to pay around $50.00.
One-Shoulder Cinched-Waist Dress
More Details"
You can't have a collection of sundresses without including a sunny yellow! This one, in addition to its vibrant, happy color, features a one-shoulder style with a ruffle that will look amazing on most body types (word of caution to larger-busted ladies: the ruffle could add unwanted volume in that region).
This style accentuates your waist and shows off your upper body, so if you love highlighting either of those, this is your dress. Try it with white or other neutral-toned casual flats, flip-flops, or low-heeled sandals. You could even dress it up with a peep-toe pump. Expect to pay less than $50.00.
Shoulders on Display
More Details"
Here's a loose and flowy style in a standout color that will look great on anyone because it disguises the common trouble areas women have while putting sexy shoulders on display. Pair it up with an understated shoe and a couple of conversation-starter accessories and your outfit is complete. Sizing is available from X to 4X. Expect to pay around $30.00.
A Summer Staple
More Details"
If there's anything that screams "Wear me!" in the summer the way nautical stripes and sundresses in general do, it's gingham. It's lightweight, usually a checked pattern like this one, and made of cotton. This particular dress costs around $30.00 and is available in sizes X through 4X.
The fit-and-flare shape is especially flattering on hourglass, apple, and pear shapes and the high scoop neck style keeps things modest and appropriate for work or play. Try a cute wedge or even a simple white canvas sneaker with this style.
Whether you choose girly gingham, a trendy cold-shoulder style, or a classy white sundress, there are dozens of options for plus size ladies to look fabulous in this summer. Choose your dress and accessorize it with your own personal flair for breezy summer style that can't go wrong.