Tall Plus Size Tummy Control Bathing Suit Options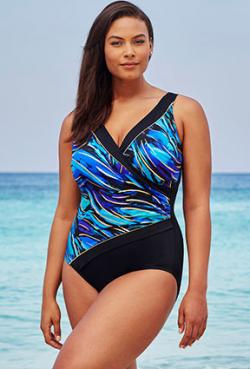 Although the swimsuit options for a woman wanting a tall plus size tummy control bathing suit may seem limited, there really are many beautiful styles and designs of swimwear made to fit this body type perfectly. Try a few of these swimsuits to find your perfect fit.
Where to Find Bathing Suits That Fit
A tall plus size woman needs a bathing suit that is cut longer in the torso area, providing a comfortable fit while compensating for extra height. The following options also include tummy control which can help you feel more confident showing off your new swimwear.
Swimsuits for All
Swimsuits for All is a newer company that prides itself on carrying swimsuits to accommodate all body shapes and sizes. Some of their tummy control offerings include:
Lands' End
Lands' End is known for their casual clothing in classic styles, but don't overlook them when it comes to high-quality, tall, plus-size options for clothes and bathing suits. Not all of their selections have tummy control, but some that do are:
Cyberswim
At Cyberswim, you can search for swimsuits by brand or size, but you can also search by feature, such as tummy control, bust minimizer, and support full bust. It's easy to find just the right fit using their fit categories.
Simply Be
Simply Be caters to curvy and plus size women, providing dozens of reasonably priced options for every occasion, and always in the latest fashions.
L.L. Bean
Maine-based L.L. Bean is known for its quality outdoor gear, and its swimsuit selection is just as good with high-quality quick-drying suits that offer sun protection.
Swim With Confidence
Getting a tall suit that fits your long torso will keep you feeling beautiful so that you can concentrate on what you're doing. Whether you are taking a dip in the pool, lounging on the beach or swimming in the ocean, feel confident and sexy wearing a comfortable bathing suit that fits you just right.