Plus size women are familiar with the challenges that accompany finding the perfect swimsuit, incomparable evening dress, or comfortable yet sexy shoes. While it can seem challenging to find flattering clothes for your full figure, that obstacle is overcome quickly when you know exactly where to shop.
10 Best Stores for Plus Size Fashions
There are some great options for stores specializing in women's plus size clothing, and while some of them have brick and mortar locations, the majority are Internet-based. Although you might do plenty of clicking around in your search for the little black dress of your dreams, focusing your search on the top stores for women's plus size apparel will help you find fashion right choices in a hurry.
1. ASOS.com
ASOS.com is a UK-based online store featuring chic clothes for plus size young adults. Browse their collection of great pieces for all body types from over 800 brand names or shop the exclusive ASOS label, ASOS Curve. Sizes range from 14 to 22, with most pieces priced in the $50 to $175 range (U.S. sizes and currency).
Choose from must-have wardrobe items like skinny jeans, dresses and separates, and sophisticated formal wear. U.S. shipping is free for qualifying orders. ASOS occupies the number two spot on the CollegeFashion.net list of the top ten stores for plus-size fashion and is named by Redbook as one of the best sites for extended size fashions.
2. IGIGI
Consider IGIGI by Yuliya Raquel an essential stopover for filling your closet with polished, no-fuss clothing in sizes 12 to 32. The label's separates - like ruffled hem pencil skirts and wrap tops - make dressing for work stylish yet fun. Casual dresses exude a sophisticated spirit, and there's no lack of glamorous cocktail and evening dresses, all priced at under $200. Prices range from around $30 to $500.
IGIGI's exclusive Shape Stylist tool, which uses shopper provided data to determine best fit, is a key benefit to plus size shoppers according to Huff Post Style, where IGIGI is recommended as one of the best shopping sources for extended size clothing.
3. Full Beauty
Full Beauty (formerly OneStopPlus) features well-known plus size labels including - Kiyonna, Sydney's Closet, Avenue and Jessica London - organized as separate stores in an online shopping mall format. Shop for fashions in sizes 12W to 44W from any or all of the featured stores using a single shopping cart, which is ultra-convenient. Whether you need a comfortable bra or a hot pair of boots, you'll find those and a whole lot more. Most selections fall into the $20 to $100 price range.
Bizrate reviewers give Full Beauty above average marks for features such as overall customer satisfaction, brand loyalty, and willingness to refer them to others. Additionally, Full Beauty appears in the number one spot on GoGirl Finance's list of cheap and chic clothing stores.
4. Forever 21
For curvaceous ladies on shoestring budgets, Forever 21 is a go-to store to score some of the season's key trendy looks - like distressed denim, polished plaids, and comfy knits - at prices they will never regret. From trendy accessories like tartan plaid leggings ($12) to signature items such as skater dresses (under $13), Forever 21 has something for even the most frugal shopper. Prices start around $5 for tops to about $50 for dresses.
Sizes range from 1X to 3X in their Forever 21+ collection. While the bulk of their inventory seems to be designed with young adults in mind, there are some good figure flattering finds for curvy ladies of almost any age. Shop online or use their store locator to find a store near you.
Forever 21 is included on Today Style's list of places to buy cheap plus size clothes. The store is described as noteworthy for its low prices for both on-trend items and wardrobe staples for curvy women.
5. Lane Bryant
Lane Bryant offers a greater variety of everyday items - such as knit tops, practical blazers, and comfortable trousers - than most other venues specializing in plus size apparel. They emphasize fashion and fit and carry a great mix of updated, modern styles so you can source practical classic pieces as well as contemporary ones.
With reasonable prices - ranging from around $30 to $350 - and a huge selection, Lane Bryant is a smart stop for daily essentials. Their clearance section, where items are often on sale at up to 50 percent off their original prices, is noteworthy. Use their handy store locator to find your closest store or shop online 24/7.
In its article about finding the best fashion sites for plus-sized women, Redbook praised Lane Bryant's well-established reputation for stocking on-trend clothing options for curvy women.
6. JMS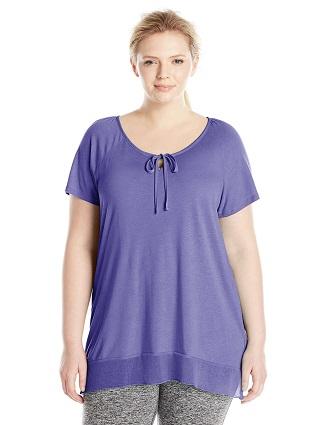 JMS, or Just My Size, carries a large selection of clothing in sizes 14W to 40W, and is particularly noteworthy for its loungewear, sleepwear, workout clothes, and undergarments. From comfortable long sleeve thermal tops for winter wear to lightweight Champion shorts for early morning workouts, this store has it all for plus-size shoppers in a price range of around $5 to $50.
Customers who purchased from JMS spoke highly of garment quality and great true-to-size fit. Oprah's Best Buys for Larger Sizes guide praises JMS as one of the best place to get great jeans in plus sizes.
7. Woman Within
Whether you are looking for a casual sundress for lunching with friends or a drop-dead gorgeous dress for a special date night, you'll look and feel fabulous in plus size clothing from Woman Within. While they offer a full-range of apparel for sizes 12W to 44W, their extensive selection of value-priced casual clothes is this stores signature feature. For example, you can scoop up their top-rated (over 1700 great reviews) bike shorts for under $6 or comfy, elastic waist jeans (also highly rated) for under $25. Overall, prices range from about $10 to $200.
Bizrate reviewers give Woman Within high scores individually for features like product availability, fast delivery, and site user-friendliness, while Fun Times Guide.com lists the store as one of the best places to purchase plus-size maternity wear.
8. Ulla Popken
Originally a maternity apparel company, Ulla Popken has evolved into a plus size apparel supplier for women sizes 12W and up in prices ranging from around $25 to $180. They are known for their selection of organic plus size clothing such as bamboo/cotton blend jackets, organic cotton pants, and other environmentally friendly pieces.
On the site, customer reviewers rave about the quality, true-to-size fit, and comfort of the clothes. PLUS Model Magazine highlights Ulla Popken as a plus size retailer offering high quality clothing with consistently great fit, and Huffington Post included the store on its list of the best places to shop for plus sizes.
9. Torrid
Designed with a youthful spirit in mind, the Torrid collection takes a bold approach to plus size dressing for women sizes 12 to 28 looking for affordable garments in the $10 to $80 range. There's nothing timid about these fashionable garments, which include everything from chic cropped cardigans and chain-embellished tops to tube dresses and tweed pants. There's no rule one must be a certain age to shop here, but Torrid does draw the teen and twenty-something crowds in particular. Find a store near you or shop their website.
According to StyleCaster, where Torrid is number two on their list of super stylish sites for plus sizes, this shop is described as outstanding for its inventory of affordable trendy fashions and accessories.
10. Roaman's
For more than 100 years, Roaman's has been catering to the special needs of the extended size market. Their extensive inventory levels in hard- to-find larger sizes up to 44W in clothing, 56J in bras, and 14WW in shoes sets them apart from other extended size retailers. They also stock good quantities of fashionable clothing in sizes 14W to 42W. Enjoy the ultimate full-figure fashion experience by browsing their collections of moderately priced garments and accessories ranging from $25 to under $200.
Roaman's earns a consistently favorable Bizrate score with high reviewer ratings for criteria like product selection, price to value ratios, and on-time delivery. Grandparents.com bestowed the unofficial title of "The Fit Specialist" on the store, praising the retailer highly for their wide range of size choices in hard-to-find extended sizes.
Fashion and Fit
Plus size women recognize that it's important to wear clothing that does more than just fit. It should also flatter and call attention to their best features while minimizing any trouble spots. In order to track down these so-called 'perfect' clothes, it's helpful to shop the stores that provide you with the right kinds of clothes made for your specific body type.