Women's Plus Size Jeans Style Pictures
Jeans for Full-Figured Women
No matter what size you wear, jeans can be a comfortable and figure-flattering choice. You just have to shop carefully to make sure you're choosing the right style, fit and size. Wearing jeans that are too tight or too loose will be uncomfortable and unflattering, but there are plenty of options for every body type. Check out this gallery of plus size jeans to get an idea of what looks good on a full-figured gal so you can start shopping for your perfect pair!
Click the "More Details" button on any of the following slides for shopping information.
Boot-Cut Jeans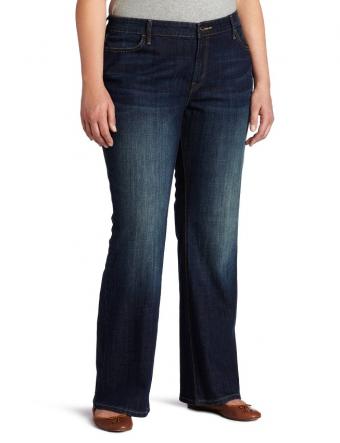 More Details"
Boot-cut jeans are a classic favorite that look particularly good on many full-figured girls. The flared leg shape can balance out wider hips, giving an overall slimmer look to women who have pear or apple-shaped figures.
This classic blue jean style by Levi's is available from Amazon for under $50. It comes in sizes 16 to 24.
Stretchy Black Jeans
More Details"
The key to selecting comfortable jeans that look as good as they feel starts with material that has a bit of give. These stretchy tapered jeans come in black denim and are designed to fit like leggings. Pair them with an oversized shirt or sweater for a casual look, or wear with a long blazer for a more put-together style.
These stylish jeans come in sizes 14W to 24W and have a 30-inch inseam. They are available for just over $100 from Zappos.
Pull-on Jeans
More Details"
If you find dealing with buttons or snaps and zippers to be a hassle, opt instead for a pair of pull-on jeans. This good-looking cropped style from Lee is a perfect, super-comfy choice for casual wear. If you'd rather keep the fact that your jeans are pull-on to yourself, just select a top that falls to your hip bone or below when you wear these pants. You'll look great and feel even better!
This pair of pull-on jeans comes in sizes 16 to 24W and costs just under $40.
Jewel and Earth Tone Corduroy Jeans
Buy Now"
Not all jeans have to be blue or black - or even denim! These straight-leg corduroy jeans by Jag can be dressed up or down. Available in sizes 12Plus through 34Plus, these pants are cut specifically to be flattering to full-figured women.
Priced at less than $40 per pair, you may want to pick up a pair in each of the six available shades.
Bright Pink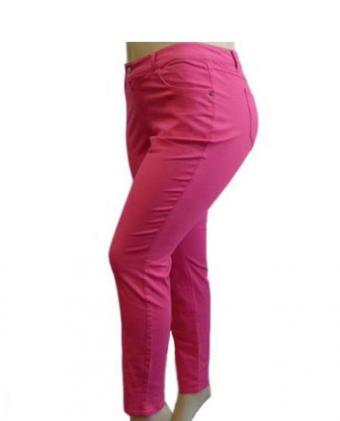 Buy Now"
There is no limit to the color options for jeans. This stylish pair of colored jeans really pops in bright fuchsia. Designed for casual wear, this straight-legged style stops just above the ankle. Wear them with flats and your favorite top and you're sure to turn heads anywhere you go.
Priced just under $25, this pair of jeans comes in sizes up to 22.
Skinny Jeans
More Details"
Even skinny jeans can flatter fuller figures if they have the proper proportions. A well-fitted pair of skinny jeans can show off curves to the max. Just remember that "skinny" doesn't mean "too small" and you'll be headed in the right direction. If you can't move freely or if there is a muffin-top over the waistband, go up a size or opt for a different style.
This deep blue colored pair of skinny jeans from Jag Jeans comes in size 14W with a 31-inch inseam and is priced at less than $30.
Ripped Jeans
More Details"
If you're a curvy gal, but don't want to look dowdy, consider trying on a pair of ripped jeans, such as the style pictured here. These jeans are high-waisted to help hide bulge, but still have that on-trend look with rips and rolled ankles.
Priced at less than $25, this unique look is available in sizes ranging from 14 to 24Plus.
Flower Print Jeans
More Details"
Patterned jeans like this flower-covered pair from Woman Within can be a lovely choice for curvy women. This particular pair is loose fitting and made of stretchy material, making them destined to become your favorite pair of jeans.
This style is available from Amazon in sizes up to 38 Plus for under $30.
Embellished Jeans
More Details"
This lovely pair of embellished jeans from Melissa McCarthy for Seven7, is a great choice for curvy women who like to wear wedges with ankle-hugging pants. Mostly cotton denim, the fabric also features 2 percent spandex, giving it just enough give to provide a figure-flatting fit for full-figured women. Available from Lane Bryant, this style costs just under $90 and comes in sizes 14W through 28W.
No matter what kind of plus size jeans you are looking for, there are plenty of options available. Once you've found the ideal jeans for your figure, consider purchasing more than one pair so you'll always have access to the figure flattering style you love!