For a stylish getaway or stay-cation, there is one essential a fashionable woman can't go without - fabulous swimwear. Sometimes shopping for cute swimwear can be challenging, but thanks to the variety that contemporary retailers offer, there are flattering options for every woman.
Stylish High-Waist Shaping Bikini
The Diva Black High-Waist Bikini is made of a nylon and spandex blend and provides full coverage of the backside. Its full coverage, smooth shaping effect, and 11-inch side seam make it a good option for ladies who want to conceal or minimize their rear end. This set costs around $46 and is available in sizes 12-24. The cup sizes of the bikini top go up to DD. The soft cup bikini top is wire-free with adjustable halter straps and includes a power-mesh support lining.
If you want color, the suit also comes in red and white polka dots. However, you should note that to help balance a large rear, a dark high-waist bikini bottom would be a great choice.
Contemporary Thigh-Concealing Crisscross Suit
The Crisscross One-Piece is the perfect find for plus size women who have large thighs. This swimsuit is designed with a moderate leg line, which is best for concealing the thigh area. In addition, the eye will be drawn upward due to the flattering ring detail and low-cut up top on the swimsuit. The one-piece costs around $69 and comes in sizes 12-24. You can find it in solid black, or white, tan, violet, teal, or red and black. This design also has removable shaping cups and is made of nylon and spandex.
Elegant and Supportive Crochet Swimsuit
Ladies looking for a swimsuit that provides great support in the bust area may want to check out this Anne Cole All Day style. This sophisticated crochet v-neck one-piece swimsuit is made with an underwire and slims through the stomach. The style gives you an overall smooth look, and the stomach area shows just a hint of skin for an alluring appeal. For additional support, there are adjustable over-the-shoulder straps. The swimsuit is made of nylon, crochet, and spandex, and is available in sizes 16W-24W. It costs around $108.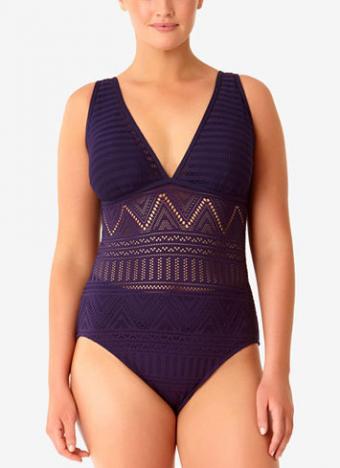 Waist-Minimizing Striped Style
To minimize a large waist, you should bring the eye inward from the mid-section with a diagonal print to accent your shape. The Mastermind Striped Underwire Swimsuit is a style that does just that and helps conceal and balance the waist. It costs about $58 and is available in sizes 12-24. Designed with a sweetheart neckline and made of nylon and spandex, the swimsuit has built-in underwire cups ranging in sizes C-DD with adjustable straps and stomach control lining.
Sweet Off-the-Shoulder Ruffled Swimsuit
For ladies who would like to conceal the arm area, or just love the ruffled look, check out the Raisins Curve Summer Majorelle Tortuga one-piece swimsuit. It costs about $88 and comes in sizes 14-24. Made of spandex and nylon, the one-piece bathing suit has a ruffle-trim neckline that is off-the-shoulder along the arms, which is perfect for camouflaging. The bathing suit also has built-in cups for extra coverage. It has a moderate leg line and comes in a rich purple pattern.
Cute and Concealing One-Piece Swimsuit
The Pin Point Spellbound One-Piece Swimsuit by Miraclesuit is great for curvaceous women who want to create the illusion of a sculpted torso. This swimsuit is designed with ruched side seams that slim while the midsection smoothes with lycra spandex. Available in sizes 12 through 16 and priced around $178, the swimsuit comes in navy blue with white small polka dots. The cute retro silhouette elongates the mid-section and conceals the stomach, making it a good choice for ladies whose stomach is a trouble area.
Finding the Best Swimsuit
Play up your curves by looking for design elements that will accentuate your body proportions. When shopping keeps these tips in mind:
One trick that works for taking the attention away from a full stomach area is ruching. The close-draping effect of ruching is a design detail that is gathered and sewn in place. As a result, it hides a woman's stomach.
Some women may want to conceal a large bottom, while others may want to flatter or enhance that area. Whichever perspective is preferred, it's key to find the right fit for the rear overall. To help balance the rear, a dark high waist bikini bottom would be a great choice.
If you are a woman who is self-conscious about her thighs, perhaps you would feel more comfortable diverting the attention to another part of your body. A boy cut short or low cut opening on the hip and thigh would make your legs appear boxy. Opening the space around the thigh with a high cut will lengthen your legs.
Look for coverage and support so that while you take a dip, your bust won't. Search for swimsuits that are made with ample cup sizes with underwire. Also, consider bathing suits or bikini tops with thick straps.
If you are uncomfortable with your arms while wearing a swimsuit, some design details to consider include halter necklines, wide straps, or even ruffles or off-the-shoulder styles.
Get Ready to Shop
While shopping for a cute swimsuit that will complement your figure, remember to focus in on the most flattering part of your body. Play up your curves by looking for design elements that will accentuate your body proportions. As you shop, be sure to try on a variety of swimsuits to find one that not only works for your shape, but that also feels comfortable on. Cute styles range from elegant retro looks to contemporary color-blocked designs, but there are plenty of choices to help you look chic poolside.