With their figure-hugging shape, pencil skirts instantly add a touch of a chic to any outfit. There are many different outfits featuring pencil skirts that plus size ladies can adopt to produce a beautiful, feminine look.
Classic Black
A classic black pencil skirt is a closet staple for any self-professed fashionista and can take you from work to play in a heartbeat. Instead of opting for a plain black cotton version, choose a jersey fabric with a stretch waistband you can easily pull on. If it has a shirred front, then that's even better, as this will add depth and form-forgiving appeal. Tuck a slinky shirt or blouse into your pencil skirt and add heeled shoes and a layered necklace for an elegant smart casual ensemble.
Casual Denim
If you're looking for a timeless, laid-back outfit, invest in a shapely jean midi pencil skirt that is supple and has enough stretch to accommodate your curves. By opting for a version with unique detailing, such as a button-down front, you can draw attention away from unwanted areas. Team your denim pencil skirt with a neutral-hued cami vest, such as white or black, to rock casual-chic all day long.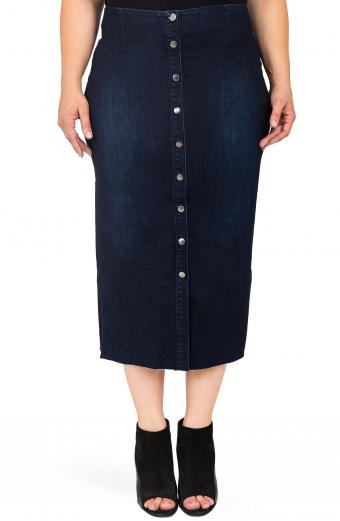 Dressy Leather
Eager to turn heads while you're out having a drink with the girls or on date night? Invest in a faux leather pencil skirt that has a luxe sheen and strategically placed seams to hug your curves in all the right places. Wear it high waisted so you can tuck in a feminine printed top and define your waist for the perfect pencil skirt silhouette.
Ruched Midi
Searching for a piece that you can dress up with heels and a shirt for an important business meeting or dress down with sneakers and a tee for a casual lunch with your family? Say hello to the ruched midi pencil skirt. Make sure that you opt for a sassy little number you can slip on that has an elasticated high waist and draped detail to create a heavenly hourglass shape.
Vintage Suspender
If you're a fan of vintage fashion and want to amp up the sass factor in your closet, consider a pencil skirt that features suspenders with a simple shirt. Suspenders not only put a tongue-in-cheek, individualistic spin on your outfit, but they distract focus away from wide hips by counter-balancing them. Choose a printed pencil skirt with suspenders that has a fitted high waistband for a flirty, retro look.
Pretty and Patterned
Patterned knit pencil skirts with a foldover waistband are a complete winner if you want versatility. You can effortlessly adjust the length and fit for ultimate comfort. Make sure you opt for a fun and attractive print in a multitude of hues that you can mix and match with current items in your closet. However, these types of pencil skirts are best suited to casual and smart casual events where you can throw on a denim shirt or sweet cami with ballet flats for a cute, girly ensemble.
Plain Paneling
If you're looking for a pencil skirt that will control your tummy while looking fabulous for a day or nighttime affair, then this might be the style for you. Opt for a version made from soft fabric with good stretch and side panels for a clever tummy-tuck effect. Whether you decide to pair it with a tailored shirt for the office or a casual tee to grab a coffee, be sure to wear it high-waisted to complement your shape.
Show Some Personality
There are currently an abundance of pretty pencil skirts on the high street for plus size women. Whatever your pencil skirt preference, make sure you combine it with pieces that make you feel comfortable and yet showcase your personality. This confidence will then shine from the inside out and make you turn heads for all the right reasons.