Plus Size Workout Clothing
Hitting the gym requires motivation, focus, and functional workout wear. Wearing the right items can help you get through your workout in comfort and style, and can even give you a confidence boost. Find out what features and items to look for in plus size workout clothing.
Maintain Comfort With Moisture-Wicking Materials
One feature to look for when shopping for plus size workout wear is moisture-wicking. Clothing made from these materials not only helps keep you dry during an intense workout, but it also helps prevent chaffing.
Essential Tank
The fitted Go-Dry Keyhole-Back Tank made of polyester and spandex has a cross open back detail and a space dye pattern. The material is breathable and made with Go-Dry moisture-wicking technology used to help keep you comfortable and dry during workouts. Shape.com suggests that the tanks and tees from Old Navy's plus size activewear are designed to fit and accommodate pear shapes by fitting snug up top and more loosely around the hips. The top comes in blue and costs about $20. It's available in sizes 1X through 4X.
Wicking Jacket
Another option, whether working out in the gym or outdoors, is the Wicking Active Jacket by Lane Bryant's Livi collection. Greaterat40.com loves the fit, quality, and fabric of this find. Available in teal and in black, this jacket style is available in sizes 14 - 28. It's made of polyester and spandex, with mesh for breathability. The jacket costs about $79 and has an asymmetrical zipper as an added style bonus when you want to add a Moto vibe to your workout look.
Look for Sports Bras With Support
Throughout a strenuous workout routine, a plus size women needs a supportive bra that will keep her bust in place. Compression and cup support can help meet this need.
High Support
According to Runner's World, the Nike's Pro Hero sports bra offers high support for plus size women up to a size 38E. The sports bra comes in both black and white and costs about $56. Designed with padded, adjustable shoulder straps and a compression fit, the bra is ideal for high impact workout routines and sports. The Dri-FIT Technology used to make the bra will also help keep you dry and comfortable.
Underwire Sports Bra
The Torrid Plus Size Underwire sports bra is ideal for mid-impact workouts, and is recommended by Heavy.com. Not only is this sports bra designed with your support in mind, but it also provides a comfortable fit. The straps are cushioned in the front and made with moisture-wicking materials. The bra also has molded lightweight underwire cups. The sizes go up to 50DD, and the bra costs about $54.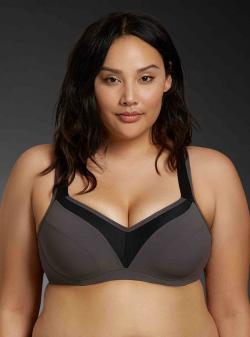 Get Compression Design Features
Another workout clothing feature plus size women should consider is compression. Some of the benefits of compression workout garments are to warm the body's muscles while increasing blood circulation and athletic ability.
Sleek Leggings
Prevention.com suggests the Rainbeau Curves brand, which has an entire compression line and specializes in sleek workout apparel that fits athletes up to 5X in size. The Curve Basix Compression Legging is made of a moisture-wicking fabric with power mesh stretch material. It's sold in sizes 14-32 and comes in black and gray. These leggings have a hidden elastic inside the top waistband to prevent them from sliding down. Sure to leave you feeling secure and comfortable, these leggings cost around $29.
Stretch Capris
The CompressionZ Capri features high-performance four-way stretch fabric that maintains the body's temperature. Designed with flatlock seam stitching that provides comfort (as stated by Primecompression.com), these workout pants cost around $29 and come in sizes Large through 2XL. The compression capris come in a range of colors such as black, pink, silver, and gray. They also come in prints, including camouflage, graphic lines, blocks, and stars.
Fashion Meets Function
For the plus size girl on the go, changing clothes after the gym is not always an option. Having workout wear that's versatile enough to go from the gym to the street can be ideal.
Game by Universal Standard
One innovative, fashion forward brand that combines tech, fit, and design is Game by Universal Standard. According to Racked.com, the five-piece collection of high tech, performance-driven activewear is the collection plus-size women have been waiting for. The line ranges from $45 to $85. Some of the designs are made using fabrications made exclusively by Universal Standard such as sweat-wicking, antimicrobial, and high-performance.
Do you need to run to the store after your workout and you don't want to fuss with a handbag? The All-Star Full-Length Leggings can hold your phone, keys and credit card in the interior front pockets. Made of nylon and Lycra, these sweat-wicking leggings cost around $75. They come in sizes 12-28 and are available in black, red on black, and blue on black.
Mix and Match
Maurice's is a highly favored recommendation from Fatgirlflow.com that offers stylish Plus Size Active Leggings. They have extra wide waistbands in sizes 14-28 for around $24. Maurice's also carries a range of layering Plus Size workout clothing basics that can be mixed and matched ranging from around $19-$49.
Plus Size Outdoor Workout Wear
On days when workouts lead to the outdoors, layering is vital for protection and warmth during the cooler months.
Versatile Jacket
According to Health.com, Columbia is the place to look for apparel that'll protect you from the elements. The Whirlibird Interchange Jacket, is a great find for outdoor fitness enthusiasts. The jacket is made of polyester Storm Lite DP II, has underarm venting, comes in light blue, dark blue, black, bright pink and orange. Sizes range from L- XL and costs $139.
Performance Fleece
Another brand that plus size women should consider when getting fit outdoors is Under Armour. Racked.com suggests that Under Armour has all its athletic apparel bases covered for everyday high-performance gear. The UA Fleece Zip is a great find among the brand, designed with a relaxed fit, heat-trapping fleece, and moisture-wicking material. This jacket style is Available in L, XL, and XXL in black and gray and costs around $79.
Get Your Workout Wardrobe In Shape
If you have found yourself tugging and pulling on your workout clothing throughout your fitness routine, then it's time to make adjustments. Wearing clothing that fits your curves with every movement is essential to a beneficial workout routine, and you can look great doing it thanks to options like those above.