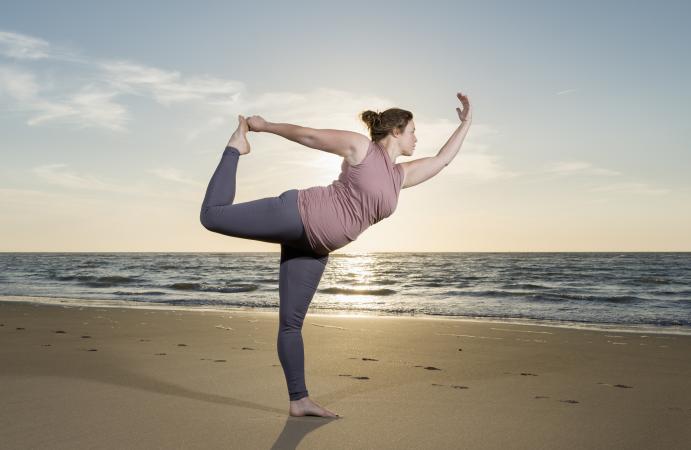 Finding essential pieces that fit properly and that are made of quality, breathable materials is important when shopping for a comfortable yoga look. Today you can find plus size yoga clothing that is not only functional, but looks stylish as well.
Juno Active
Juno Active founder Anne Kelly realized that there was a void in plus size fitness clothing made of technical fabrics while taking aerobics, and this inspired her to fill the gap. Juno Active sells yoga clothing for curvy women made from long-lasting, quality fabrics. A characteristic of their clothing is that it is stylish even for casual wear, making it ideal for those who may opt to wear their clothing beyond the studio. Sizes offered by Juno Active range from XL to 6XL.
Perfect for wearing by itself or layered under a tee, the Stretch Naturals Crossback Tank With Bra is made of a cotton and Lycra blend. The tank is a great choice because it provides a substantial amount of support due to its two layers of fabric, inner shelf bra, and thick cross-back straps. Available in blue or red, sizes range from 1x to 6x This tank costs about $43.
A consideration for comfortable yoga pants are the Plus Size Loose Fit Leggings. Available in charcoal, these soft, wide-elastic waist pants have a close fit in the thigh area with a more loose fit in the lower calf. Made of cotton and lycra, this lightweight pant costs about $50 and is available in 1X to 6x. These pants are great for women who want to go through bend and stretch movements free of fabric from hugging their legs.
If you've been looking for a basic t-shirt that's isn't baggy and maintains its shape, you might want to consider the Junonia® Classic Tee. This versatile and lightweight tee made of cotton and spandex comes in coral, sea foam, blue, and red and costs about $40. The size ranges from XL to 5X. These tees are a worthy find, especially because a woman can never have too many tees to do yoga.
Juno is a good brand to try; according to a review by xojane.com, the Juno Active bras and support bra tops are great for yoga and won't crush your bosoms.
Lineagewear
The brand Lineagewear was founded by former New York City Broadway costume designer, Katie Pippin. As a gifted costumer, she'd also been a yogi who knew exactly what it would take to make a stretchy fabric withstand sweat and rigorous movements. The environmentally friendly brand makes yoga clothing for plus size women who wear up to a 5X.
Who doesn't love a tank with a slogan? The Namastay Tank is a racer-back shape that comes with a fun slogan that reads 'Namastay in Yoga Pants All Day'. Made of polyester, rayon, and cotton, the breathable tank comes in L and XL (equivalent to 12/14 and 16/18) in black, red, purple, green, and shades of blue for around $25. This tank would be a fun and modern addition to your personal yoga activewear collection.
During the cooler months when layering is a necessity, plus size yogis need to layer up to stay warm. The Ohmnivore hoodie is long-sleeved, with a double-lined hood, elastic waistband, and double-pocket pouch. Made of cotton and polyester, the hoodie is available in black, navy, green, maroon, and red and costs around $45. Find it in sizes L-5XL.
Sometimes keeping it basic just won't do, especially when it comes to yoga leggings. The Pink Peacock Leggings by Lineagewear are lightweight, moisture wicking, and done with a high waist that conceals the stomach. The contour-shaping leggings cost around $62 and come in sizes Large to 5X. There are three lengths to choose from: long, ankle and capri. These leggings are designed to withstand stress and prevent drooping, and the high waist will prevent 'muffin top.' Proceeds from the sale of this style will benefit Action Against Hunger, so you can feel even better about your purchase.
According to Body Positive Yoga, leggings by the Lineagewear brand are comfortable, high quality, and stretchy.
Super Fit Hero
Founded by Micki Krimmel, Super Fit Hero is an athletic apparel line that designs items for active women of all shapes and sizes up to a 4XL. The athletic clothing found within this collection is ideal for women who participate in a range of physical activities, including yoga.
If you are a woman who has joined the feminist movement, there is a tee for you while doing yoga - the Women's Feminist Tee. Noted as one of the most popular style of tees by Super Fit Hero, the tri-blend shirt is made of cotton and rayon. The tee is only available in Black Forest and costs around $29 in sizes L-4XL. The lightweight material and comfort style make this a great tee for yoga. The scoop neck and slightly contoured style also make it flattering for curvy ladies.
Thinking of engaging in an outdoor yoga class during cool seasonal days? A Super Fit Hero hoodie will keep you warm and cozy as you stretch through your poses. The FMNSThoodie is made of cotton/poly fleece and available in sizes Large through 4XL. It comes in gray and costs around $49. Its color is slimming, and it is done in modern juniors sizing that won't look shapeless and unflattering. If you want a looser fit, the brand suggests sizing up.
For a firm but comfortable fit during your yoga workouts, the SuperFit Pocket Capris will not ride up or fall down during your sessions. Made of a poly/spandex blend, they have flat lock seams that prevent chafing and are designed to wick away sweat. The SuperFit capris are available only in black, cost around $79, and come in sizes L to 4XL. With the secure fit offered by these pants, you can indulge in yoga poses worry-free.
Body Postive Yoga claims that the Superfit Leggings are "like a really supportive bra for your lower body."
Lane Bryant
As a go-to retailer for plus size women, Lane Bryant continues to be one that recognizes the clothing needs of curvaceous women who have diverse lifestyles, including those who engage in yoga. Lane Bryant's activewear collection, Livi Active, consists of fitness wear made of cooling and wicking fabrics that move with you thanks their performance stretch design. Most clothing within the collection fits sizes 00X (size 12) to 2XL (size 22).
Yoga looks don't have to be boring, so to turn your style up a notch with the Blue Active Cold-Shoulder Drawstring top. It is made of polyester and rayon is a fashion-forward choice for active wear. This find costs about $15, is available in blue only, and comes in sizes 14-24.
Looking to add a hint of color to your yoga ensemble? The black Signature Stretch Active Yoga Capri with a tie-dye waistband will do just that for your style. Offering support with every bend, the capris are made of cotton and spandex. They are available in sizes 12-28 and are sold for about $40.
If tummy control is a concern of yours during your yoga routines, the Control Tech Smoothing Yoga Pant is the perfect find. Made with hidden control mesh panels for a smooth fit from the tummy through the hip, the supportive, stretchy, and breathable pants are available in sizes 12-24 in black for around $50.
Greater At 40 highly recommends the Livi Active collection by Lane Bryant, and suggests that women will be pleased with the coverage and support that is provided for moderate workouts such as yoga.
Choosing Yoga Pieces for Plus Size Women
With every pose you perform while doing yoga, wearing the right clothing has a direct effect on your comfort. When selecting your clothing, the following suggestions are just a few things to consider.
As a plus size yogi, wearing pants and tops that are durable and made of quality materials should be top priority. For support and control in the waist and stomach area, look for materials that are made of cotton with lycra or spandex blend.
Look for material that is breathable. Although breaking a sweat is seen as a sign of beneficial performance and well-being while working through a fitness routine, perspiring can be uncomfortable. Look for yoga clothes that are lightweight and breathable. Consider pieces that are made of moisture-wicking materials.
Whether you're a busty plus size woman or not, wearing a tank top or sports bra that has a supportive foundation will provide control and support through each yoga movement.
Go for a great fit that comfortably contours your body, yoga clothing shouldn't be so tight that it prevents you from moving with ease. Your clothing should be unrestrictive with stretch, yet not baggy.
Stress-Free Shopping
There are many yoga clothing brands out there today for full-figured women. When you are looking for support, style, and comfort, you won't have to look far to find exactly what you need.