Finding Vintage Plus Size Swimwear Sewing Patterns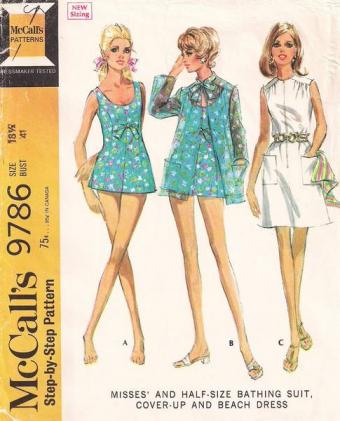 Typically, vintage swimwear refers to swimsuits from the 1920s through the 1970s. Many of the styles from these decades are perfect for curvy, plus-sized women. If you love the styles of vintage swimwear and have a bit of sewing experience, you can make your own swimwear inspired by the looks of yesteryear. Whether you use an actual vintage sewing pattern or choose a modern pattern with vintage flair, it's fun to create a stylish bathing costume from your favorite era.
Finding Genuine Swimsuit Patterns from Past Years
From modest 1930s styles to racy 1970s disco-inspired suits, you can use old patterns to create a truly authentic look. However, finding vintage patterns can be challenging, especially in plus sizes. Most of the time, only one pattern of a style or size range will be available, so it's important to pick it up right away if you find a pattern for the design you have in mind. Keep in mind that vintage sizing differs from modern sizes, so it's important to choose a pattern that fits your measurements instead of shopping by your size.
At the following stores, the vintage plus size pattern selection changes constantly, so stop back again if you don't find what you need right away.
Heavens To Betsy Vintage
Specializing in patterns from the 1930s to the 1980s, Heavens To Betsy Vintage offers a nice selection of bathing suit patterns for plus size women. Most complete patterns retail for about $45 to $65.
Glamour Surf
Glamour Surf offers vintage sewing patterns and specializes in swimwear and beach cover-ups. You'll find all eras represented, although plus sizes can be a little challenging to find. There are a few plus size patterns in stock much of the time, up to a size 20. Patterns retail between $12 and $70.
Etsy
A commerce website for sellers of vintage and handmade items, Etsy often offers patterns for vintage swimwear. Most designs are from the 1960s and 1970s, but occasionally, there are older patterns available. Prices depend on the seller, but you can expect to spend about $15 for a pattern.
So Vintage Patterns
In addition to many wonderful retro patterns So Vintage Patterns has instructions on how to resize a vintage pattern and how to sew an unprinted pattern. They also provide a link to a step-by-step online pattern maker that provides photographed instructions on resizing any pattern to your correct size. Plus size styles can be a little hard to find, but there are some options going up to size 18. On this site, patterns typically retail between $40 and $65.
eBay
eBay has a constantly changing selection of vintage swimwear patterns. It's best to search for vintage patterns in general, rather than specifying plus sizes, since many sellers don't use "plus size" in the item description. You'll find patterns in sizes 18 and 20 on a regular basis, most for about $25.
Replicating Vintage Swimsuit Styles with Modern Patterns
Even if you can't find a true vintage pattern, it's possible to get the look you want making creative use of modern patterns.
1920s Romper-Style Swimsuit
According to Victoriana, the 1920s were all about tank-style bathing suits with scoop necks and boy shorts made from heavier fabrics in dark colors. This form-fitting silhouette was part of the flapper era and served to minimize curves, making it a flattering choice for full-figured women.
A modern romper sewing pattern, such as M6331 from McCall's in sizes 14-20, is the perfect way to emulate this look. The pattern retails for about $10. To get the authentic 20s style, make the romper out of a heavy black cotton jersey or wool fabric. Use black accents and buttons for a cohesive look.
1930s Tank Suit
Swimsuits in the 1930s were characterized by rising hip lines and two-tone, Art Deco-inspired color palettes. According to Country Living, the 1930s were also the decade that colorful suits emerged on the fashion scene, although most were still solid tones rather than prints. The heavier fabrics and simple lines are flattering on many plus size figures.
This look is relatively easy to re-create with a modern plus size tank suit pattern like M4848 from McCall's. (Look for it on eBay or Etsy.) Although this pattern is out of print, it's easy to find on Amazon. It comes in sizes up to 32W and retails for about $20. To channel the 1930s for this suit, choose a thick jersey fabric in a bright color. Make the straps out of a contrasting solid color like white or black and add a matching belt.
1940s Halter Bikini and Shorts
The 1940s saw the rise in popularity of the bikini. The bottoms were usually skirted and had a high waistband. Tops featured the sexy halter style inspired by 1940s evening wear. Sweetheart necklines were also popular. This was also the era of prints, especially polka dots. For plus size women, this is a great decade to emulate. Curves were in, and feminine style was all about the bust and hips.
To make a swimsuit of this style, you'll need to combine a couple of patterns. Start with BurdaStyle Halter Dress #133, which retails for about five dollars. Cut off the top portion of the dress just below the bust and add a wide flat band of fabric to finish it off. Avoid lycra, since this fabric wasn't available during the 1940s, focusing on a heavy cotton knit instead.
1950s Structured Bikini
Bikinis were also popular in the 1950s, as you can see from vintage photos on GlamourDaze. A more structured, sculpted look replaced the halter styles of the 1940s, and the bottoms were cut slimmer and higher in the hips. High waist styles were still very popular, and prints became wilder than ever. This era was also great for plus size women, since it focused on curves and structure.
Plus size lingerie patterns are a great way to emulate this look. Start with the bra pattern KWIK Sew 2374, which retails for $10. Add the swim briefs from Butterick 5795, which sells for about $10. When you make the briefs, extend the waist slightly higher. Make both pieces in the same print fabric.
1960s Skimpy Bikini
According to vintage shop Lulu's, the 1960s were all about the skimpy bikini. High-waisted bottoms were out, and tops became smaller and less structured. These suits, while not for the faint of heart, are fairly easy to emulate with today's patterns. For plus size women who are confident about their bodies, there are plenty of fun options out there.
To make a triangle top to fit any woman, what this YouTube video. Pair it with the Butterick 5795 swim briefs used in the 1950s bikini, but instead of raising the waistband, lower it slightly. Choose a lycra fabric in a bold floral print.
1970s One-Piece
Vintage Fashion Guild reports that the 1970s saw the return of the one-piece suit, especially in racier styles with cut-outs. Bold psychedelic prints were also extremely popular, as were plunging necklines and draping. These styles were very flattering for plus size women, since v-necks accent a full bust and draping provides an hourglass effect.
The Butterick 5795 pattern comes in handy again here. You can use it to create the v-neck draped one-piece. If you're feeling daring, cut the hips a little higher for some sexy 70s style. Choose a psychedelic print to really channel the disco era.
Show Off in Vintage Style
No matter which era you choose, retro-style swimsuits can flatter the plus size figure. Choose patterns and fabrics that match your favorite era, or mix and match to create a vintage-style design that really shows off your favorite body parts.