Finding the Perfect Dressy Tops
For plus size women, creating a wardrobe means investing in items for all parts of your lifestyle - including occasions that require you to dress up with a little glitz. Whether deciding to wear a sleek pair of dress pants or a chic skirt, coordinating the perfect dressy top will help you to create a stellar ensemble for any special event.
Stylish Black Sequins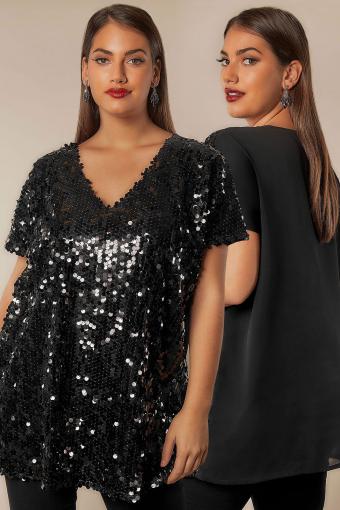 More Details"
While planning what attire to wear for special occasions, women often want to put on all the glitz. For those moments, sequins are one of the most glamorous textures and add a shimmering touch. Attending an evening wedding or cocktail party? Make a sparkling statement in this sequin cap top.
Keep it chic and simple by pairing with a black pencil skirt, long dangling gemstone earrings, black pumps, and a silver clutch. You could also pair this with black leggings or skinny jeans for informal evening wear. Available for around $47 in sizes 14-30, this top is only available in black.
The top has a deep v-neck which is ideal for busty plus size figures. Designed with sequins in the front and chiffon in the back, the top also has short sleeves and would look great underneath a blazer if needed.
Pretty Plus Size Lace Top
More Details"
When you want a look that is classic, timeless, and feminine, lace tops are delicate and can add a romantic vibe to your look. If the Victorian runway trends have you feeling inspired, you'll certainly want to add the Linden Lace Top to your closet. Made of polyester, the top costs around $79 and comes in sizes 0X-5X in black, burgundy, green, and black-on-nude lining.
If you are a plus size woman who looks for tops to hide her arms, the sleeves on this design are half-length so they would be ideal. The peplum shape is also great for those who want to hide their stomachs and the deep v-neckline is perfect for those who are busty.
The burgundy lace top would be a beautiful complement for ivory pants, gold pumps and a pair of gem tassel earrings. Or, pair it with dark dress pants and an ivory clutch for a sleek look.
Sheer and Romantic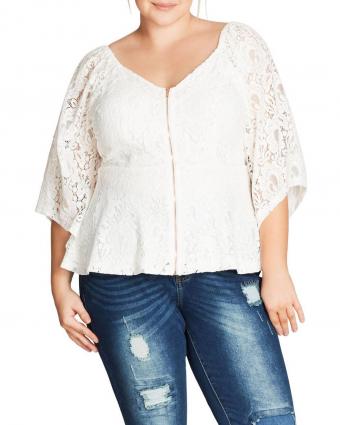 More Details"
Get glammed up with flair in this Sheer Romance Lace Top by City Chic. The peplum shape flatters a curvaceous woman's stomach by accenting her waistline. Another design highlight? The three-quarter sleeves will also conceal the arms.
Made of a cotton and nylon blend, the top is available in sizes 14-26, costs around $69, and only comes in ivory. Make your outfit shine by pairing this top with a pair of gold metallic pants or a gold skirt, nude shoes, and gold jewelry.
If you're going out for a girls night, you can dress it down with trendy denim too.
Ruched Sweetheart Blouse
Buy Now"
Want to give your evening wear a smooth, rich touch? The draped silhouette of this Luvamia Women's Plus Size Ruched Sweetheart Top is made of a polyester and spandex blend, has an open neckline, and is designed with short sleeves. The crossover ruched effect drapes well over a large bust and stomach.
Available in sizes 12-32, this top costs around $23 and comes in navy and burgundy. For a little edge on your next special occasion evening, wear with a pair of black pants and black heels.
Black Satin Ruffles
More Details"
Nothing says elegance like a top with a soft satin-like feel. If you are a plus size woman with a medium bust and large upper arms, a flutter sleeve top such as the ELVI black satin ruffle top will fit loosely while balancing the chest area.
The v-neck top comes in sizes 14-22 (in black or red) and costs around $36. Try wearing it with a red pencil skirt with a slit and black heels. Another option is to pair it with sleek striped black dress pants.
Keyhole Cold-Shoulder Top
More Details"
If you're looking to brighten up dark dress pants or even wear light colors for a nighttime event, this ivory B Collection by Bobeau Curvy Pamela Cold-Shoulder Top could be the answer. Made of polyester, this ruffled short-sleeve top has a loose and flowing fit. The subtle empire waistline blends into the ruffle sleeve making this top a great complement for those with medium size busts, broad shoulders, and large stomachs.
Wear this dressy plus size top with a floral print skirt, gold earrings, strappy gold shoes, and a gold clutch. This top also comes in black and is available in sizes 1X-3X and costs around $90.
Simple Metallic Style
More Details"
You were born to shine, so show off your style with a metallic knit top for a simple yet edgy look. The Curvy Collection Moonbean Top made of polyester, rayon, lurex, and spandex is off-the-shoulder and made of metallic thread.
Available in sizes 0X-5X for about $29, the curve-hugging top has three-quarter sleeves, comes in metallic black, and is designed with princess seams and a boat neck opening (both of which complement a wide neck and shoulders). This top would pair well with a black or red flutter hemline skirt and black pumps.
Sophisticated Blouse
More Details"
If you want a top that is long, roomy, comfortable, and still sophisticated, the Vince Camuto Specialty Size Plus Size Cape Overlay Blouse is a fierce choice. The overlay material camouflages a full stomach while also skimming large hips and providing a flowing fit through the arms.
Available in sizes 2X-3X, this kimono-inspired top costs around $69 and is made of polyester. The red top would pair nicely with a burgundy or black pair of pants and a tan patent leather heel.
Flattering Hi-Low Top
Buy Now"
Are you a pear shape who wants to minimize the appearance of your lower half? This Nally & Millie Women's Plus Metallic Hi-Low Cold Shoulder Top has a boxy shape and will do the trick. Available in silver in sizes 1X-3X, the top costs around $42.
Wear this glowing top with black or grey velvet pants, black embellished heels, and a black clutch.
Plus Size Lace Overlay Top
More Details"
If you love the idea of wearing an ivory top but feel self-conscious about your bustline, the Marina Rinaldi Bellezza Lace-Overlay Top has a color-blocking effect which will minimize the appearance of the bust. The top is made of silk with black lace and comes in sizes 14-20 for around $475. Try jazzing up this top with a pair of ivory black pinstriped (or plain black) pants and black pumps.
Contemplating the right outfit for an evening event isn't always easy. But with the right dressy tops, you'll be ready to impress with the perfect choice for your next night out.