Plus Size Summer Evening Wear
Shopping for summer evening wear is easy and fun once you know what looks best on you. There are many choices available in plus sizes, and it's simple to dress in style for any event you attend.
Plus Size Options for Summer Evenings
Even in summer, an evening event calls for formality. This is ideal because, for both comfort and flattery, a dress is best. Certain styles are more flattering than other for plus size women when you need to dress up for a summer evening event.
Halter Dresses
A flattering halter style, with or without a V-neck, does wonders for your appearance by drawing the eye up and in, creating a slimming and lengthening effect. It's a decidedly feminine style, sexy without being excessive, and creates a graceful look.
ModCloth Amour Than Anything Dress - This pale pink dress has a retro feel to it with its wide halter straps and black polka dot print. There is flattering ruching on the bust and on the thick band around the waist, and the dress is long enough to provide ample leg coverage and still look beautiful when you twirl. This dress is available in sizes 4-24, but reviewers say it runs slightly large. It retails for around $130.
Vince Camuto Beaded Neck Trapeze Overlay Sheath Dress - This dress is a beautiful modern take on the style of the jazz age. The halter neckline is beaded for a hint of built-in glamour, and there is a forgiving, beautifully draped chiffon overlay atop the classic black knee-length sheath. This classic dress is flattering for every body type. It comes in sizes 14-24 for close to $200.
Wrap Dresses
Wrap dresses are one of the most popular evening styles and look great on plus size figures. They skim and hug the body, showing off your curves and giving you an hourglass figure. They come in a variety of styles and patterns, so you just need to find the one that suits you best.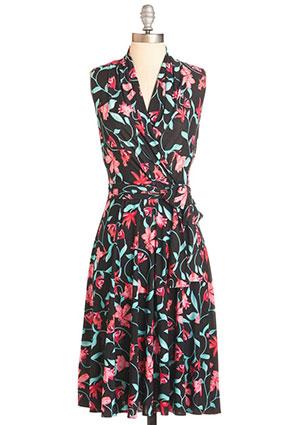 Lauren Ralph Lauren Zebra Wrap Dress - This knee-length, asymmetrically-hemmed dress has a black and tan zebra print that manages to be graceful instead of tacky. The lightweight fabric and sleeveless style make this a great choice for summer events, and the wrap waist and vertical lines of the print create a slimming effect. Available in sizes 14-22 for about $160.
ModCloth Barcelona Fide Beauty Dress - If you want a darker wrap dress that still embraces summer's bright palette, look no further. This sleeveless black dress has a cherry and green floral design. The wrap style drapes beautifully over curves and is pulled together by a tie waist over a skirt that begs to be spun. Sizes XL and XXL for about $140.
Prints and Ruffles
Many plus size women gravitate towards dark solids in their evening wear as these are known to mask bulges. However, a well-designed dress in a light color with a floral pattern can be just as flattering. It's important not to shy away from a pretty pattern just because you think it won't suit you - a pattern can add interest to a good dress and soften your overall look.
Ruffles are also common in summer clothes. While there is a legitimate concern that they could add bulk, options like a softly ruffled sleeve or neckline will both hide bulges and create a softer, more visually interesting look.
Adrianna Papell Print Fit and Flare Dress - Prints don't get more beautiful than the one on this purple dress with pink, blue, and yellow floral designs along the top and bottom. The solid, dark mid-section of the dress is slimming, and the strategically-placed print radiates summer chic. The short sleeves, boat neck, and flared skirt only add to the charm. It comes in sizes 14-24 for around $150.00.
Eliza J Placed Print Crepe de Chine Maxi Dress - Summer wardrobes often have white garments, but white is generally thought of as unflattering for plus size women. This dress proves that stereotype wrong as the primarily white gown flatters its wearer's curves. The centered blue pattern draws the eye inward, making the dress slimming no matter what your size and the cutaway back adds an extra hint of romance. Available in sizes 14-24 for close to $200.00.
ASOS Curve Maxi Dress with Flutter Sleeve - This dress has many great features for the plus size wearer. It's long, so it's suitable for women who aren't comfortable showing their legs, but it's made of lightweight and loose-fitting fabric so it will keep you cool in the summer heat. Additionally, there is a navy option available for those who prefer dark colors, and a mint option for women who want something more summery. The ruffled sleeves provide a little more coverage while doubling as a stylish detail. It comes in sizes 14-24 for about $100.00.
Long Dresses
If you are going to a very formal event that calls for a long dress, opt for something form-fitting that will add length to your figure. An A-line dress that gathers well at the waist and skims the hips will be elegant and comfortable. Look for fitted tops with a generous V-neck to keep eyes drawing upward. A long dress looks great with high heels as this also gives you more length and thus slims your silhouette.
Igigi Lakshmi Gown in Bronze - This gown covers all of your bases. It has a slimming gathered waist, an eye-drawing V-neck, and a curve-hugging fitted bodice. The floral bronze overlay on the skirt makes this more than just your average black dress. When you wear it, you will be the belle of the ball. It's available in sizes 12-32 for just over $400.00.
Truly You One Shoulder Maxi Dress - This navy chiffon maxi offers a stylish twist on the full-length evening gown. The dress has a thick sash at the waist so it doesn't appear bulky, and a long flowing skirt that hides imperfections. It gives you the trendy, Grecian goddess look without breaking the bank. Complete the look with gladiator sandals and a topknot. Get it in sizes 14-24 for nearly $100.00.
Dress Shopping
A good summer evening dress, in a classic style, will last for years. You should only need one or two at most, so it's best to make a good investment in a quality dress that you love. When you feel great in a dress, you look that much better.